Isaac Cody, Vice President of Corporate Financial Planning and Analysis of Walmart Stores, Inc., has been elected to the Coker College Board of Trustees.
"Isaac's undergraduate experience resembles that of many Coker students," says Coker College President Robert Wyatt. "He studied at a similar institution that placed significance and importance on study abroad and a liberal arts education, which helped prepare him for a successful career at a multinational retail corporation."
Cody's three year term will begin with the annual meeting of the Board of Trustees on October 25-26, 2018.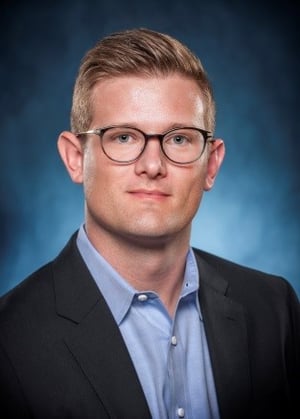 In October 2018, Cody will move to Tokyo and start a new position as Senior Vice President and Chief Financial Officer of Walmart Japan. Cody started his career at Walmart as a store operations intern in 2001 and has held various finance roles with the company over the past 17 years.
As Vice President of Corporate Financial Planning and Analysis at Walmart, Cody leads the company's consolidated financial planning and forecasting activities. Before that role, he was Senior Director of Merchandise Finance and Strategy, supporting the Consumables and Health & Wellness businesses. In that role, Cody was responsible for financial planning, decision support, and negotiating business terms with key vendors.
Cody has held various other finance roles at Walmart, including roles in operations, treasury, real estate, international integrations, and internal audit. He received his B.A. in international business from Drury University and completed a study abroad program at the Fachhochschule Nordostniedersachsen in Luneburg, Germany.
During his time at Drury University, Cody was on the Enactus U.S. Champion Team and Enactus World Cup Team. Enactus is an international organization that connects student, academic and business leaders through entrepreneurial-based projects that empower people to transform opportunities into real, sustainable progress for themselves and their communities. Guided by academic advisors and business experts, the student leaders of Enactus create and implement community empowerment projects around the globe.
Cody, his husband Jeff Shipley, and their two children, Arley and Jasper, are in the process of relocating to Japan. The couple is actively involved in volunteer leadership positions at the Helen Walton Children's Enrichment Center and Junior Achievement of Arkansas.
The Coker College Board of Trustees meets quarterly and maintains broad responsibility for the mission, long-range direction, policies and financial condition of the institution.