The Cecelia Coker Bell Gallery presents the work of artist Kathleen Thum. Her exhibit of drawings, paintings, and wall installations, titled "OilWorks," opens Monday February 4, with a reception in the Cecelia Coker Bell gallery from 7-8pm. Light refreshments will be served, and the reception is free and open to the public. The show runs through March 4, 2019.
Thum's drawings, paintings and wall installations, which explore the ongoing shifting of power between mankind and earth, have been widely exhibited. Selected group exhibitions include SouthxEast at Florida Atlantic University in Boca Raton, Florida, Man + Land + Water at Winthrop University in Rock Hill, South Carolina, Nowhere Everywhere at the Cambridge School of Weston, Massachusetts, Interventions at Ohio State University in Mansfield, Ohio, and Salvage at Parkland College, Champaign, Illinois. Her recent past Solo and Two-Person shows include exhibitions at University of Alabama in Huntsville, Rogue Community College in Grant Pass, Oregon, Furman University in Greenville, South Carolina, and Broward College in Davie, Florida. Thum's work is also included in the 2014, 2015 and 2017 Manifest International Drawing Annual Exhibition in Print publications and the June/July Issue of New American Painting in 2016.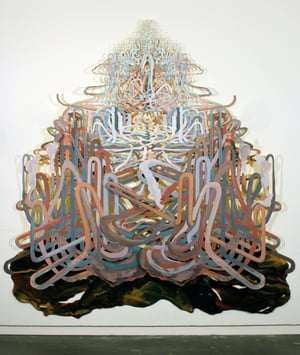 [Image: Petrolia, 2017, 10ft x 9ft, Acrylic on Laser Cut Paper]
Thum has been awarded several fellowships to attend artist residencies, such as the Jentel Artist Residency in Wyoming, the Vermont Studio Center, the Saltonstall Foundation for the Arts and the Women's Studio Workshop. She has received a Quarterly Support Grant from the South Carolina Arts Commission and was a recipient of the New York Foundation for the Arts Mark Program. Kathleen presented her artwork at the 2016 International Petrocultures Conference in St. John's, Newfoundland, and plans to present new work at the upcoming 2018 Petrocultures Conference in Glasgow, United Kingdom.
Thum received her BFA from Maryland Institute College of Art in Baltimore and her MFA from Bowling Green State University in Ohio. She currently teaches drawing as an associate professor in the art department at Clemson University in upstate South Carolina, where she lives with her husband and eleven year old son.
The Cecelia Coker Bell Gallery is located in the Gladys C. Fort Art Building on the Coker College campus, in Hartsville, S.C. Gallery hours are Monday, Wednesday, Friday, 10 a.m. to 4 p.m., Tuesday, Thursday, 10 a.m. to 8 p.m. while classes are in session.
For more information about the gallery, please call exhibition director, Renny Prince, at 843-383-8156, or email him at artgallery@coker.edu or visit http://www.ceceliacokerbellgallery.com/ .
Coker College upholds and defends the intellectual and artistic freedom of its faculty and students as they study and create art through which they explore the full spectrum of human experience. The college considers such pursuits central to the spirit of inquiry and thoughtful discussion, which are at the heart of a liberal arts education.