Coker University's Cecelia Coker Bell Gallery presents "Dwelling Upon," an exhibit of mixed media by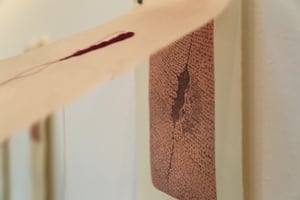 Jackson, Mississippi, artist Sue Carrie Drummond. The exhibition begins with a reception at 7pm on Monday September 23, 2019, and will continue through Friday, October 18, 2019. The opening reception is free, open to the public, and light refreshments will be served.
Sue Carrie Drummond received her Bachelor of Arts in Studio Art from Millsaps College in 2012, and her Masters of Fine Arts in Book Arts and Printmaking from The University of the Arts in Philadelphia in 2015.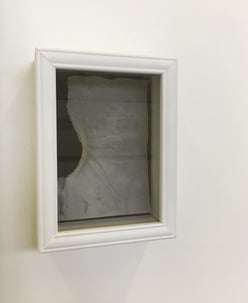 Vacillating between destruction and restoration, Sue Carrie is lured by labor-intensive processes that require considerable time investment and meticulous attention such as papermaking, printmaking, and fibers. While enamored by the meditative nature of the techniques she employs, she often finds herself frustrated during the making and questioning the point and purpose of the product. In this way her work reflects on how damage is repaired by highlighting the effort and devotion that it takes to make something whole again. But mending inevitably leaves a trace.
For more information about the gallery, please call exhibition director, Renny Prince, at 843-383-8156, or email him at artgallery@coker.edu, or visit ceceliacokerbellgallery.com.
----
The Cecelia Coker Bell Gallery is open 10am to 4pm Monday, Wednesday and Friday, and from 10am to 8pm on Tuesday and Thursday while classes are in session. The Gallery is located in the Gladys C. Fort Art Building on the campus of Coker University in Hartsville, South Carolina. For more on the gallery, please visit www.ceceliacokerbellgallery.com.
Coker College upholds and defends the intellectual and artistic freedom of its faculty and students as they study and create art through which they explore the full spectrum of human experience. The college considers such pursuits central to the spirit of inquiry and thoughtful discussion, which are at the heart of a liberal arts education.