Coker University celebrated its 2020 commencement with five separate ceremonies: a ceremony on Friday evening, December 11, for graduate students and four separate ceremonies on Saturday, December 12, for its undergraduate students. Across all five ceremonies, approximately 150 students attended.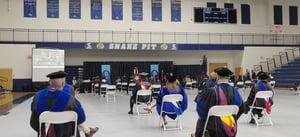 Keeping the wellbeing of its students as its top priority, the university made the decision last spring to postpone its May undergraduate and graduate commencement ceremonies due to concerns regarding the spread of Covid-19. The ceremonies last weekend included May 2020 graduates who were unable to have an in-person celebration last spring.
Out of an abundance of caution and to keep crowds limited and distanced, two ceremonies on Saturday at 10:00 a.m. and 1:00 p.m. were for December 2020 undergraduates, two ceremonies on Saturday at 3:00 p.m. and 5:00 p.m. were for May 2020 undergraduates, and a ceremony Friday evening at 7:00 p.m. was for graduate students who completed their degree requirements between February and December of this year. All ceremonies were held in the spacious DeLoach Center main gymnasium.
Safety measures were in place for each ceremony, including temperature checks for all attendees, proper social distancing, and mandatory mask-wearing. Any scrolls for graduates or programs for attendees were placed in seats. Each graduate was allowed two guests, including children, and each attendee was required to have a ticket. All guests were escorted to their seats, and there was an assigned door for entering and another for exiting. All doors were opened only by university officials. At the end of the ceremony, guests were asked to remain seated until their seating section was dismissed.
Dr. Danny Malone, assistant professor of sociology and criminology at Coker University, addressed the graduate students at their ceremony Friday evening. Dr. Malone earned his Ph.D. in sociology from Texas A&M and teaches sociology and criminology courses at Coker. His teaching mantra is "education must not only teach skills, it must teach life." Recently, Dr. Malone published a portion of his dissertation as a book chapter in the International Handbook on the Demography of Marriage and the Family.
Dr. Andrea Coldwell, Dean of Coker's College of Humanities and Sciences and associate professor of English, addressed December undergraduates at the 10am and 1pm ceremonies on Saturday. Dr. Coldwell received her B.A. in English and history from Otterbein University and her Ph.D. in English literature from Temple University. She has published work on adaptations of classic novels and on the reception of Jane Austen and Walter Scott. Her current research investigates unpublished women's diaries from the late-eighteenth and early-nineteenth centuries in order to better understand how women performed femininity and individuality. Since coming to Coker in 2011, she has taught courses in First Year Writing, British and World Literature, and in the Honors Program.
Coker University head men's basketball coach, Jarred Merrill, addressed May undergraduates at the 3pm and 5pm ceremonies on Saturday. Merrill helped the Cobras to seven wins in his first season in 2019-20, including six in the South Atlantic Conference. In addition, under Merrill, men's basketball landed three players on the 2019-20 South Atlantic Conference Commissioner's Honor Roll, achieved a 3.37 team GPA, and finished sixth in Division II community service hours.
Merrill came to Coker in 2019 after spending the last four seasons as an assistant coach at Mercer University. Prior to his time at Mercer, Merrill spent three seasons as an assistant coach at Southern Nazarene University. In addition to his coaching prowess, Merrill was a standout player in school, finishing his career at Oklahoma Christian University as the program's all-time leading scorer (2,189 points), was a Hall of Fame Inductee in 2013, and named the NAIA Division I National Player of the Year. Upon graduating, Merrill played professionally in Spain, Luxembourg, Saudi Arabia, Argentina, Bahrain, Lebanon and South Korea, as well as in the U.S. in the NBA Development League, the American Basketball Association and the United States Basketball League.
Coker University's December 2020 Commencement ceremonies can be viewed online at portal.stretchinternet.com/coker under the "On Demand" tab.
For more information about Coker University, please visit www.coker.edu.