The Coker University Band will be performing a Musical Tribute to America – In Honor of Our Veterans on Monday, November 11, 2019, beginning at 7:30 p.m. in the Watson Theater of the Elizabeth Boatwright Coker Performing Arts Center on the university's Hartsville campus.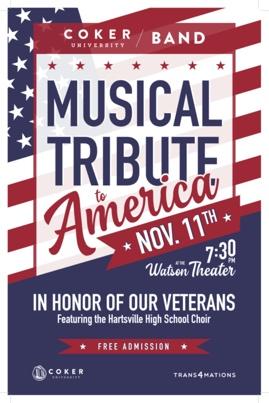 The university's 67-member concert band will perform patriotic favorites such as America, America the Beautiful, You're a Grand Old Flag and also a special setting of Amazing Grace and Battle Hymn of the Republic with narration given by Colonel Curtis T. Lee, United States Marine Corps Reserve (Retired). The concert will conclude with a tribute to each branch of the Armed Forces featuring members of the Hartsville High School Singers and Choral Ensemble.
The Choral Department of Hartsville High School has a longstanding tradition of excellence performing around the community and beyond. The Choral Ensemble is a chorus comprising mostly of freshmen that participated in the middle school magnet program at Hartsville Middle School. The HHS Singers includes sophomores, juniors, and seniors, that participate in All-State Choir and choral competitions. Their new chorus director, Ms. Liz Olson, is absolutely thrilled to join the Red Fox family and support these students in their musical growth.
Colonel Curtis T. Lee is narrating "Within These Hallowed Halls." Colonel Lee retired from the Marine Corps reserves with experience in artillery, logistics and civil affairs - a specialty focused on the military's engagement and relationship building with local populations and governments. He served in Iraq and Afghanistan in senior roles responsible for the stabilization and rebuilding of those countries. Colonel Lee continues to serve the local community through a variety of leadership and service activities.
The Coker University Band, directed by Kelly Jokisch, is composed of a combination of Coker University student and community musicians. Community members include professional area music educators, band directors, choir directors, ministers of music, Coker University faculty members along with students from the Governor's School for Science and Mathematics, Hartsville High School and Florence District One. Concerts last 45-60 minutes without an intermission. The event is free and open to the public.