Coker College Enactus is introducing a few new Hartsville-based community service projects that focus on partnerships and sustainable outcomes. The Coker team hopes to defend their spot as one of the top three Enactus teams in the nation at the national competition in May.
Coker College Enactus is undertaking some new projects based right here in Hartsville:
Pocket Parks
Coker Enactus is partnering with the City of Hartsville to bring newly developed "pocket parks" to south Hartsville. The Pocket Parks team and the City of Hartsville have identified a vacant lot with plans to turn it into a park. By providing safe places in the community, Pocket Parks will help keep kids off the streets and out of trouble. Pocket Parks team members are Chauntress Like, Matt Murphy, Anthony Salas, and Frank Velez.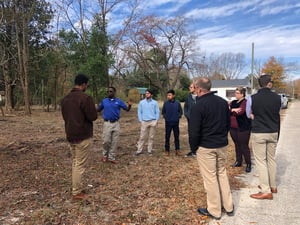 Project leader Velez says, "The Pocket Park is going to be open to anybody to come and play. We're going to be including a basketball half-court, maybe some sort of a pavilion with benches, maybe an outdoor grill...We've noticed that there are more parks for smaller kids and not many parks for the older [kids and young adults,] so we're hoping that we can use this to build a community, and help the community come together."

Recycled Roads
The goal of Coker Enactus's Recycled Roads project is to improve local infrastructure and, at the same time, the environment. The team has identified an innovative model for paving surfaces that is both eco-friendly and more sustainable than traditional asphalt. Recycled Roads team members are Hannah Baird and Justus Lehmann.

The inspiration for this project came from a Coker alumnus, Gary Baker. "[He] saw a video on Facebook about a company in England called MacRebur, and what they do is take recycled plastic from landfills or the ocean and they break it down into different forms to use in asphalt," says project leader Baird. "There's a product called MR6 from MacRebur and it comes in a pellet form. So you have a layer of asphalt, and then on top of the asphalt is something called bitumen. They use the plastic to replace part of the bitumen because bitumen is extremely expensive on a global scale because of the high demand for it. They use the plastic in place of part of it, and the plastic, when it binds with the bitumen, acts as the hydrocarbon, so it binds together and it increases the tensile strength of the roads. Overall it's more effective in making the road stronger. It creates less repairs, increases the longevity of them, and overall it's cheaper."

Since paving roads at random is unrealistic, the team is hopes to launch the Recycled Roads initiative by paving smaller areas, such as basketball courts and bike paths. "[We'll] purchase MR6 from MacRebur and then we're going to try to work with an asphalt company locally to see if they would be willing to incorporate MR6 into their mixture," says Baird.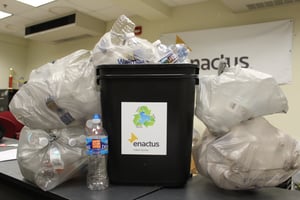 It's estimated that anywhere between 30,000 and 40,000 plastic bottles would be recycled in the space of a single basketball court. Coker Enactus is in talks to partner with Sonoco Products Company to recycle plastic bottles and materials collected from Coker's campus, and then incorporate those recycled materials into the Recycled Roads project.

Kids Can (revamped)
During the 2017-2018 school year, Coker Enactus's Kids Can project team worked with Hartsville High School to establish a food pantry for students in need. This year, in addition to the food pantry, Kids Can is working to empower Hartsville High students with the skills they need to tackle the next steps in their life, be it college or seeking employment. Kids Can team members are Nicholas Beiers, Mahari Greene, Emma Lindenmuth, and Makayla Shore.

Through in-person presentations to Hartsville High juniors and seniors and one-on-one consultations, Kids Can is educating high school students on the college application process, particularly financial aid and scholarship opportunities, as well as how to market themselves effectively for employment opportunities, including creating LinkedIn profiles. The goal of Kids Can is for Hartsville High students to realize that kids can go to college, kids can earn scholarships, and kids can find jobs and have successful careers.

"Our idea is to really empower these students," says project leader Beiers. "We might be giving them food right here in the beginning, but essentially...we want to make sure that we adequately prepare them for [life after graduation]."


Enactus is an international organization that connects student, academic and business leaders through entrepreneurial-based projects that empower people to transform opportunities into real, sustainable progress for themselves and their communities. Guided by academic advisors and business experts, the student leaders of Enactus create and implement community empowerment projects around the globe.
Coker Enactus was named third in the nation at the 2018 Enactus United States National Exposition in Kansas City, Missouri. There are 440 Enactus teams that compete in regional competitions across the country; the top 100 go on to compete at the National Exposition and the final four teams present in front of more than 1,000 people.
Coker Enactus has 33 team members: Alicia Quinteros, Anthony Salas, Brandon Mullins, Bret Shurina, Chauntress Like, Christopher Nowlin, Destany Gause, Edward Leitgeb, Emma Lindenmuth, Ethan Cairns, Evan Bachman, Frank Velez, Gabriel Castro, Giancarlo Martinez, Hannah Baird, Jenny Ruetten, Joao Victor Santos, John Thomas Peagler, Justus Lehmann, Kiisha Hilliard, Lexi Baughman, Mahari Greene, Makayla Shore, Mary Kooper, Matt Murphy, Matthew Kron, Nicholas Beiers, Norris Rachels, Parker Oldham, Reilly Hall, Seth Spell, Taylor du Bray, and Tiffany Taylor.
For more information, please contact Andrew Taske, Director of Coker College Enactus, at ataske@coker.edu or 843-857-4125.