Coker College Enactus was named fifth in the nation at the Enactus United States National Exposition held May 5-7 in Kansas City, Missouri. There are 404 Enactus teams in the United States, 87 of which competed for the national title.

The national competition gives teams the chance to represent the collective impact of their community outreach and life-changing outcomes. Projects are evaluated on how successful they are at using entrepreneurial conce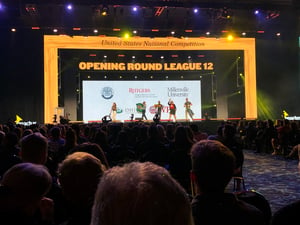 pts to improve the quality of life and standard of living for those in need.

"Enactus is a global organization with 70,000 students representing 1,700 colleges and universities in 36 countries across the world," says Andy Burkemper, director of Coker's Center for Leadership and Entrepreneurship. "We are so proud that our Coker students live out the organization's core values of integrity, passion, innovation, and collaboration every day through their high-impact projects in our local communities and on the other side of the world. I cannot think of 46 better representatives of Hartsville and our entire state of South Carolina."

Coker Enactus chose its Myanmar Empowerment project as the focus of its presentation. The goal of Myanmar Empowerment is to strengthen the team's partnership with New Hope, a non-governmental organization based out of Myanmar that operates a number of community centers in rural areas, in an effort to end human trafficking and provide the people of Myanmar with the resources necessary to become self-sufficient. The community centers serve as safe spaces for members of the community and offer everything from basic education for children to life and work skills workshops for women and men. Coker Enactus's fundraising provided vital resources for these community centers, including food, school supplies, salaries, and opportunities for skill development within a small business environment.

The six presenters for the national competition were Evan Bachman from Greenville, South Carolina, Jenny Ruetten from Düsseldorf, Germany, Mary Kooper from Florence, South Carolina, Hannah Baird from Pittsburgh, Pennsylvania, Brandon Mullins from Cincinnati, Ohio, and Gabriel Castro from Belo Horizonte, Brazil.

Enactus is an international organization that connects student, academic and business leaders through entrepreneurial-based projects that empower people to transform opportunities into real, sustainable progress for themselves and their communities. Guided by academic advisors and business experts, the student leaders of Enactus create and implement community empowerment projects around the globe. Coker is one of 404 active Enactus teams in the United States and currently has 46 participating students.

Coker Enactus team members for the 2018-2019 academic year include Alex Alverson, Alex Braden, Alicia Quinteros, Angelique McDonald, Anthony Salas, Ayush Patel, Bradley Bomar, Brandon Mullins, Bret Shurina, Chauntress Like, Christopher Nowlin, Cole Laffidy, Destany Gause, Edward Leitgeb, Emma Lindenmuth, Ethan Cairns, Evan Bachman, Frank Velez, Gabriel Castro, Giancarlo Martinez, Glenn Stratton, Hannah Baird, Isaiah Gold, Jenny Ruetten, Joao Victor Santos, John Thomas Peagler, Justus Lehmann, Kenzie Griggs, Kiisha Hilliard, Lexi Baughman, Mahari Greene, Makayla Shore, Mary Kooper, Matt Murphy, Matthew Kron, Nicholas Beiers, Norris Rachels, Parker Oldham, Raya Coley, Reilly Hall, Riley Fisher, Samy Tshileu, Shai Brown, Seth Spell, Taylor DuBray, and Tiffany Taylor.

Coker Enactus team advisors are Andrew Taske, Director of Coker Enactus; Phyllis Fields, Professor of Theatre; and Andy Burkemper, Assistant Professor of Business.

For more information, please contact Andrew Taske, Director of Coker College Enactus, at ataske@coker.edu or 843-857-4125.

Press release written with the help of Gabe Castro, '19, an intern in Coker's office of marketing and communications.