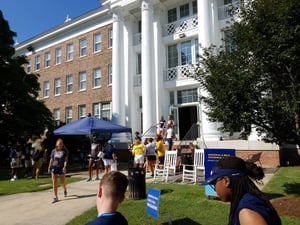 Hartsville, S.C. – August 17, 2018 – This year, Coker welcomes its record-breaking class of 2022. More than 300 new students will begin their fall semester on Tuesday, August 21, making this group of incoming students the largest in the college's history.
[Photo: New Coker students moving in, August 17, 2018.]
"I'm certain the class of 2022 will continue to break records," says Coker College President Robert Wyatt. "With Coker's continuing commitment to student success, these students, along with all Coker students, will develop the best versions of themselves and their stories."
The class of 2022 includes 18 STEM Scholars in Biology (SSB), a program for high-achieving students interested in pursuing careers in STEM fields, and who are in need of financial assistance to attend college. The program is made possible thanks to a grant from the National Science Foundation's Scholarships in Science, Technology, Engineering, and Mathematics program (NSF S-STEM). The grant provides scholarship aid averaging $6,000 per year for each of the recipients' four years in college, a laptop for each student, intensive mentoring, and more, all in an effort to help these students persist in STEM careers.
The class of 2022 is also the first to participate in the college's AccessCoker initiative. All new first-year students at the Hartsville campus will receive an iPad and Apple Pencil. This year marks the first phase of the program, which will eventually result in every member of the campus community having access to the same technology. "This is what [our incoming students] are accustomed to, not a textbook or worksheets," says Brianna Douglas, Vice President for Student Success at Coker College. "If you get on their level, they're going to be more successful."
The 2018-2019 academic year will also see the return of field hockey after a 40-year hiatus and the launch of esports (i.e., competitive online gaming). This year, the college is also launching a new configuration of its general education requirements, centered around the six pillars of the Coker College covenant––integrity, respect, scholarship, sustainability, service, and contribution. This revised approach will continue to provide students with a strong foundation of knowledge across multiple disciplines and subject areas, preparing them to be critical thinkers and engaged citizens.
For more information about Coker College, please visit www.coker.edu.