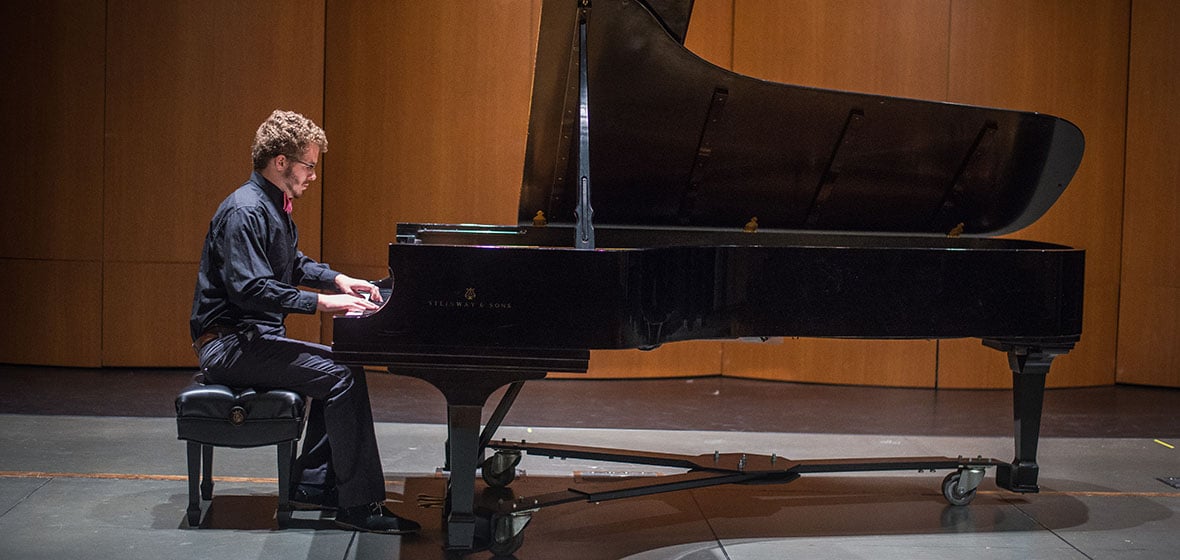 Hartsville, S.C. – October 13, 2017 – Coker College has earned the designation of being an All-Steinway School, making it the third college in South Carolina and the only college in the Pee Dee to have this distinction. Only 175 institutions, colleges and universities in the world have the privilege of being an All-Steinway School.
Coker College has an inventory of 12 Steinway & Sons Boston vertical pianos and 11 Steinway & Sons grand pianos. It took $600,000 and five years of dedicated fundraising to achieve this goal.
On Friday, October 27, 2017, Coker College will host an event with Ron Losby, CEO of Steinway Musical Instruments, and Steinway artist David Osborne to celebrate the college's designation as an All-Steinway School.
As an All-Steinway School, Coker College offers its music students, faculty, guest performers and community the highest quality pianos in classrooms, practice studios and performance spaces, giving Coker a competitive edge when recruiting musical talent.

"Our loyal donors have made the All-Steinway School possible," said Will Carswell, vice president for external relations and professor of music at Coker College. "This designation demonstrates Coker's commitment to excellence by providing the best instruments possible for the study of music. We have achieved a dream for our students and faculty! In addition, officially becoming an All-Steinway School will enhance our recruitment efforts in attracting talented new students to our program."
The honor of being an All-Steinway School is a designation given directly by Steinway & Sons. It means that 90% of a school's pianos must be Steinway & Sons, Boston or Essex pianos, and a maintenance plan must be in place as Steinway & Sons insists that their pianos be kept in performance-quality condition.
"It has been a musical privilege to play, perform, and learn on these awesome instruments," said Matthew Stalnaker, a recent graduate of Coker College.
Steinway & Sons pianos are exclusive to 97 percent of all pianists performing with orchestras around the world, as well as 1,600 musicians who are designated Steinway artists.
In addition to earning the designation of being an All-Steinway School, Coker College's Ryan Smith was awarded the Steinway & Sons top teacher award. The award is given annually for outstanding instruction and leadership in piano education.
"I've been fortunate to have gifted students in Hartsville through PULSE, the Community Music Program and at Coker," says Ryan. "They inspire me and open my imagination, which I always hope opens theirs. And I've always felt an incredible sense of support and respect in my studio here."
Ron Losby, CEO of Steinway Musical Instruments, said about Ryan, "Your commitment to your students is evident in your insistence that they practice and perform on the finest pianos in the world, knowing that high-quality pianos maximize not only a student's practice experience but also their inspiration and creativity. Your passion for music will light the way for countless others."