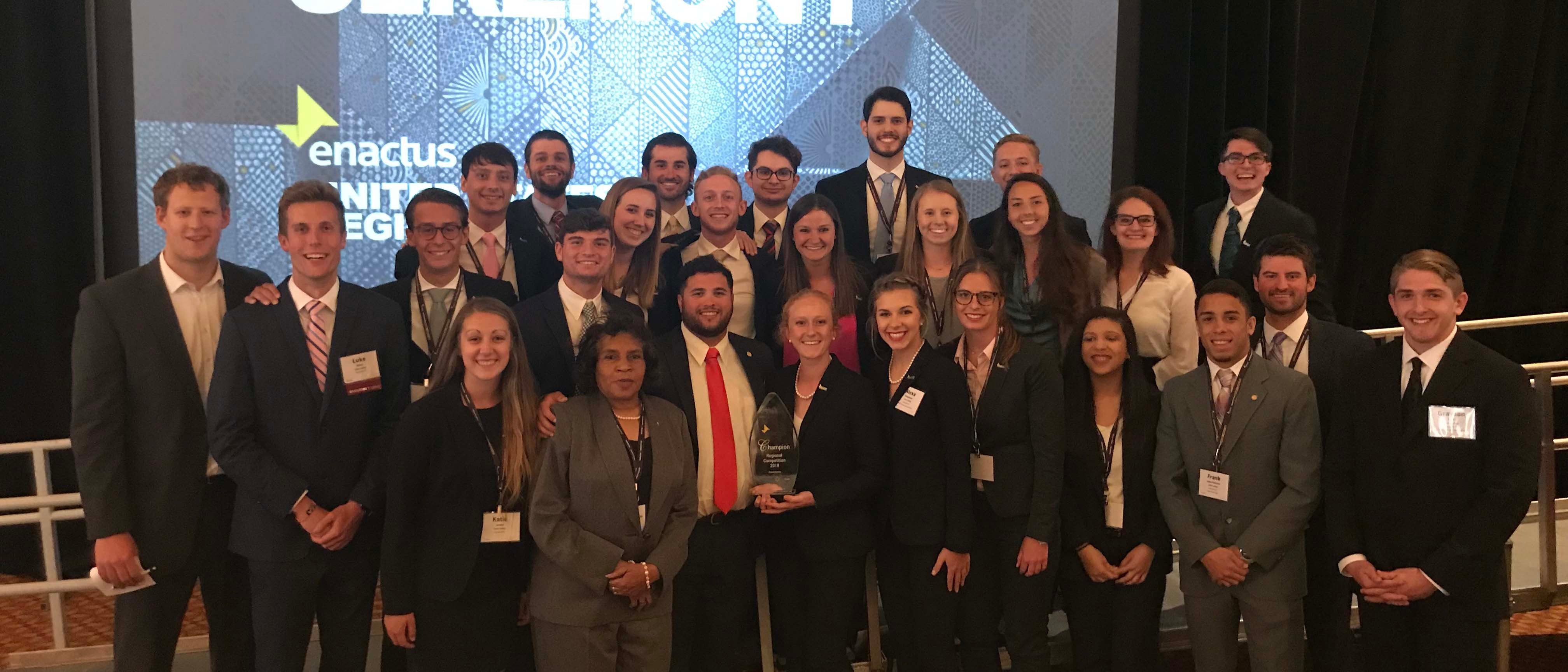 Hartsville, S.C. – April 18, 2018 – Coker College Enactus was named a regional champion at the Enactus United States Regional Competition held on April 16, 2018, in Dallas, Texas.
The event is one of five regional competitions and one virtual competition held throughout the country in the spring. As an Enactus U.S. regional champion, the Coker College team will advance to compete at the Enactus U.S. National Exposition in Kansas City, Mo., May 20-22.
"Every day, our Enactus students work to improve the lives of others," says Gabriel Mens, director of Coker College Enactus. "It was awesome to see those same students represent themselves, the people they have impacted, and Coker College in Dallas this weekend. I am very proud of everything they have accomplished and cannot wait for them to represent their work on an even bigger stage in Kansas City this May."
Enactus is an international organization that connects student, academic and business leaders through entrepreneurial-based projects that empower people to transform opportunities into real, sustainable progress for themselves and their communities. Guided by academic advisors and business experts, the student leaders of Enactus create and implement community empowerment projects around the globe. Coker is one of more than 450 active Enactus teams in the United States and currently has 44 participating students.
The regional competition gives teams the chance to represent the collective impact of their community outreach efforts through a combined video and oral presentation. Projects are evaluated by business leaders, recruiters and sponsors who rank them on how successful they are at using entrepreneurial concepts to improve the quality of life and standard of living for those in need.
During this academic year, Coker College Enactus is involved with a variety of projects:
Aquaponics in Myanmar, a sustainable ecosystem where fish and plants are grown together in one environment, has meant improved food security and helped raise much-needed funds for a local non-profit center.
Clean Water in Myanmar has provided five gallons of clean water every day to 70 families, improving 350 lives.
Women's Empowerment in Myanmar consists of installing a local business for producing low-cost sanitary napkins, which will reduce the risk of illness, create a new business, empower women with consistent income, and help remove the shame women of the country have surrounding their monthly menstrual cycles.
Rent-a-Fridge allows Coker students to rent a mini-fridge during the academic year, providing a more affordable and convenient option for students as well as recurring revenues to support ongoing Enactus projects.
Kids Can partners with Carolina's Kids, a local nonprofit, to enhance funding needs and nutritional values of the organization's weekend food bag initiative for local children, as well as created and launched a food pantry at Hartsville High School.
Summer Business Academy, sponsored by Wells Fargo, jump-starts high schoolers' college education by earning three credit hours at Coker College, completely free of charge for all participants.
Ubuntu-Blox is a wooden press that turns recyclables into sturdy bricks that can then be used for construction purposes, including building houses.
The Coker Enactus team that traveled to Dallas for the competition included Olivia Avery, Evan Bachman, Hannah Baird, Gary Baker, Alexa Baughman, Gabriel Castro, Luke Elliott, Destany Gause, Henrik Hellbe, Katie Jordan, Matthew Kron, Kendra Lambert, Edward Leitgeb, Suzanna Mickey, Kyle Ocker, John Peagler, Bethany Prochnow, Jennifer Ruetten, Joao Victor Santos, Sydney Shull, Grayson Seth Spell, William Vanhook, and Frank Velez.
The six presenters for the regional competition were Hannah Baird from Fort Mill, South Carolina, Lexi Baughman from Frederick, Maryland, Gabriel Castro from Belo Horizonte, Brazil, Henrik Hellbe from Stockholm, Sweden, Kyle Ocker from Chicago, Illinois, and Joao Victor Santos from Brasilia, Brazil.
Additional Coker Enactus team members include Nicholas Beiers, Ethan Cairns, Bryson Conner, Taylor DuBray, Deanna Faile, Jake Johnson, Mary Kooper, Reilly Hall, Kiisha Hilliard, Chauntress Like, Emma Lindenmuth, Giancarlo Martinez, Brandon Mullins, Jay Novoa-Miralles, Eion Riley, Federico Scaglioni, Anthony Salas, Makayla Shore, Bret Shurina, Tiffany Taylor, Connor Yost.
For more information about Coker College Enactus, please contact Gabriel Mens at gabriel.mens@coker.eduor 843-383-8361.