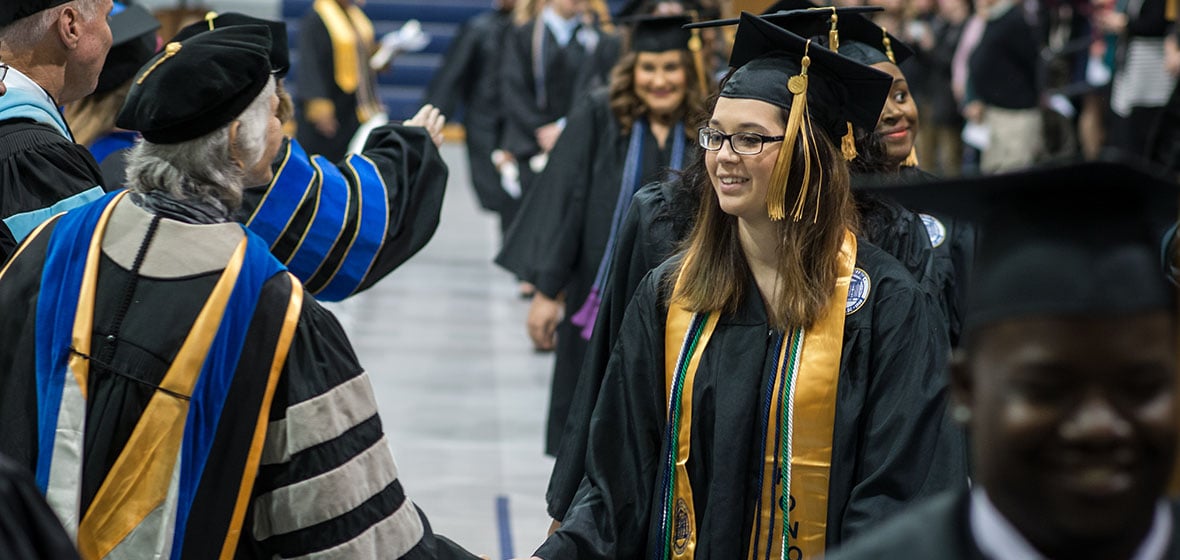 Hartsville, S.C. – December 18, 2017 – On the morning of Saturday, December 16, during its 2017 winter commencement ceremony, Coker College conferred bachelor's degrees on 54 graduates and master's degrees on 19 graduates.
"This morning we mark an important milestone in the lives of our graduates as they become members of the 109th graduating class of Coker College," said Coker College President Robert Wyatt. "As we watch you graduate this morning and look forward to following your careers, be assured we will be seeking ways to leverage all of the experiences of 2017 to develop the new programs and opportunities that future Coker students will require."
The ceremony was held at 8:00 a.m. in the Harris E. and Louise H. DeLoach Center. James W. Roquemore, Chairman of the Board and CEO of Patten Seed Company, Inc., and General Manager of Super-Sod/Carolina, presented the commencement address and received an honorary doctor of humane letters degree.
Roquemore urged graduates to be solution-oriented. He said, "I think there are two types of people in the world––those who are solution-oriented and those who are problem-oriented. Problem-oriented folks come up with all kinds of problems...Hardly ever do they offer a solution. All they do is complain and grumble...Solution-oriented folks come with answers and solutions. They identify weaknesses and they take corrective action. Their goal is to improve the situation, to move the ball forward...Solution-oriented people tend to set goals. They work well with other people. They tend to find the right answer. They tend not to care who gets the credit, they get the job done. Be that solution-oriented person and you're likely to be a success."
Roquemore serves as Chairman of the Board and CEO of Patten Seed Company, Inc., in Orangeburg, South Carolina. He also serves as General Manager of Super Sod-Carolina, a company that produces and markets turf grass, sod and seed. He is a Director of South State Bank, N.A., and South State Corporation (formerly South Carolina Bank and Trust, N.A., and SCBT Financial Corporation, respectively) since 1994. He has also been a Director of SCANA Corporation since 2007 and also serves as Chairman of South Carolina Conservation Bank.
Roquemore has served on the Southeast Region and National boards of the Boy Scouts of America and as a Co-Chairman of South Carolina's Council on Competitiveness (formerly known as New Carolina). This council is committed to advancing the long-term competitiveness of South Carolina through actionable research, support of industry clusters, and education and workforce development initiatives. Roquemore has also served as the past President of the Palmetto Agribusiness Council.
Roquemore has received numerous honors and awards throughout his career, including the Governor's Order of the Palmetto, the South Carolina Ambassador for Economic Development, Orangeburg Citizen of the Year, and the Silver Beaver by the Boy Scouts of America. In March 2018, Roquemore will be inducted into the South Carolina Business Hall of Fame in a ceremony in Columbia, S.C. He is recognized as a champion of free enterprise who serves as a role model in business for South Carolina's youth. He was selected for his unique contribution to the state's business landscape, for being an agent of positive change, for his leadership, and for being a source of inspiration for young business leaders and entrepreneurs.
From 2002-2007, Roquemore served on the Coker College Board of Trustees. His son, Jay Roquemore, is a 2004 Coker College graduate with a Bachelor of Fine Arts degree.
"Persistence will drive success," Roquemore said. "Never give up."
Brittany Cheek '20 presented the 2017 Adjunct Professor of the Year award to Wanda Hodge, adjunct professor of mathematics. John W. Threatte '17 delivered an address as a representative of the class of 2017 (and used the opportunity to give his mother the good news that he had been accepted into Clemson University's M.B.A. program), and Caleb Shuler '18 performed the national anthem and the Coker College alma mater.