On the morning of Saturday, May 11, 2019, during its 111th spring commencement ceremony, Coker College conferred bachelor's degrees on 144 graduates. In a separate hooding and commencement ceremony on the evening of May 10, Coker College conferred master's degrees on 45 graduate students.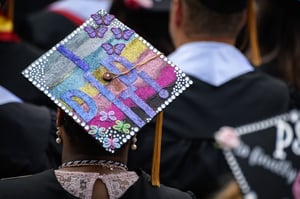 "In the years to come, graduates, when you think of this time in your life, remember the different moments, the different achievements, and the different people you became close to," said Dr. Robert Wyatt, President of Coker College. "As you take these next few steps across the stage, know that we appreciate the gifts that you have shared with us and we are honored to celebrate your achievements."

The spring commencement ceremony was held at 8:00 a.m. in the Courtyard at Davidson Hall. Dr. Marlene Ross, a higher education consultant and former longtime director of the American Council on Education (ACE) Fellows Program, presented the commencement address and received an honorary doctor of humane letters degree.

"Whatever your destination, it will be a time of change, often filled with fear of the unknown," said Dr. Ross. "Coker College has prepared you well to meet the challenges of your future…Give to others. Continue learning. Take educated risks and grow. Be sure to give back to those who have helped you along the way, including your university. Go forward and continue to make yourself, your family, and your University proud of your achievements."

Dr. Ross received her B.A. from Barnard College, her M.Ed. from Harvard University, and her Ph.D. from The American University. Before joining the ACE, Dr. Ross was associate director of the Mid-Atlantic Center for Race Equity at The American University (D.C.) and served as an evaluator of federally funded programs at two and four–year colleges assisting institutions in improving planning and management systems. She also worked as an administrator and was on the faculty at the University of Maryland, College Park.

Dr. Ross is currently serving leaders at colleges and universities as an executive coach and a higher education consultant. Prior to her consulting career, Dr. Ross spent 17 years as director of the ACE Fellows Program in Washington D.C. and held other ACE positions an additional seven years. The ACE Fellows Program identifies and prepares a diverse group of higher education leaders for senior leadership positions. Approximately 1,000 leaders participated in the program during Dr. Ross's tenure as director, and over 300 of the participants have served or are serving as presidents and chancellors.

Dr. Ross has led groups of ACE Fellows on working visits to universities in several countries including China, Costa Rica, England, Ecuador, South Africa, Mexico, Taiwan, and Turkey. These visits focused on studying higher education leadership issues from an international comparative perspective. She also has served as a consultant to presidents in other countries.

In addition to her work with the ACE Fellows Program, Dr. Ross has contributed to the planning and implementation of other leadership initiatives such as the ACE's Institute for New Chief Academic Officers and Advancing to the Presidency; a workshop for vice presidents who have served over three years in their current position and are seeking a presidency. Dr. Ross also served as a senior adviser for the Center for Effective Leadership, where she developed executive leadership programs for cabinet-level officers at colleges and universities.

Dr. Ross is an author and a known speaker on trends in higher education, leadership, leadership development, career planning, negotiation, and other issues in higher education. She has counseled many senior leaders and has conducted presidential evaluations, campus assessments, and conference and program planning. For the past 20 years she has helped plan and presented at the Leadership Institute affiliated with the Association for Theatre in Higher Education.

One of Coker's highest honors is the Algernon Sydney Sullivan Award, which is typically bestowed upon one student and one community member who exhibit "selflessness, generosity of service, nobility of character, integrity, and depth of spirituality." The 2019 Algernon Sydney Sullivan student award was given to Destany Gause ('19). The 2019 Algernon Sydney Sullivan community member award was given to two recipients this year, Lori Huffer and Johnna Shirley.

Student Government Association president Temaris Dixon ('19) presented Dr. Shawn Lay, professor of history, with the 2019 Master Professor of the Year award. Geathel Galbreath, Elizabeth Kincaid, Gabriel Castro, and Joao Victor Santos each made brief remarks as representatives from the class of 2019. Paigelyn McElveen ('19) performed the national anthem and the Coker College alma mater.

The spring class of 2019 is the last graduating class of Coker College. On July 1, 2019, the institution's name will effectively change to Coker University.

Press release written with the help of Tommy Dong, '19, intern in the office of marketing and communications.