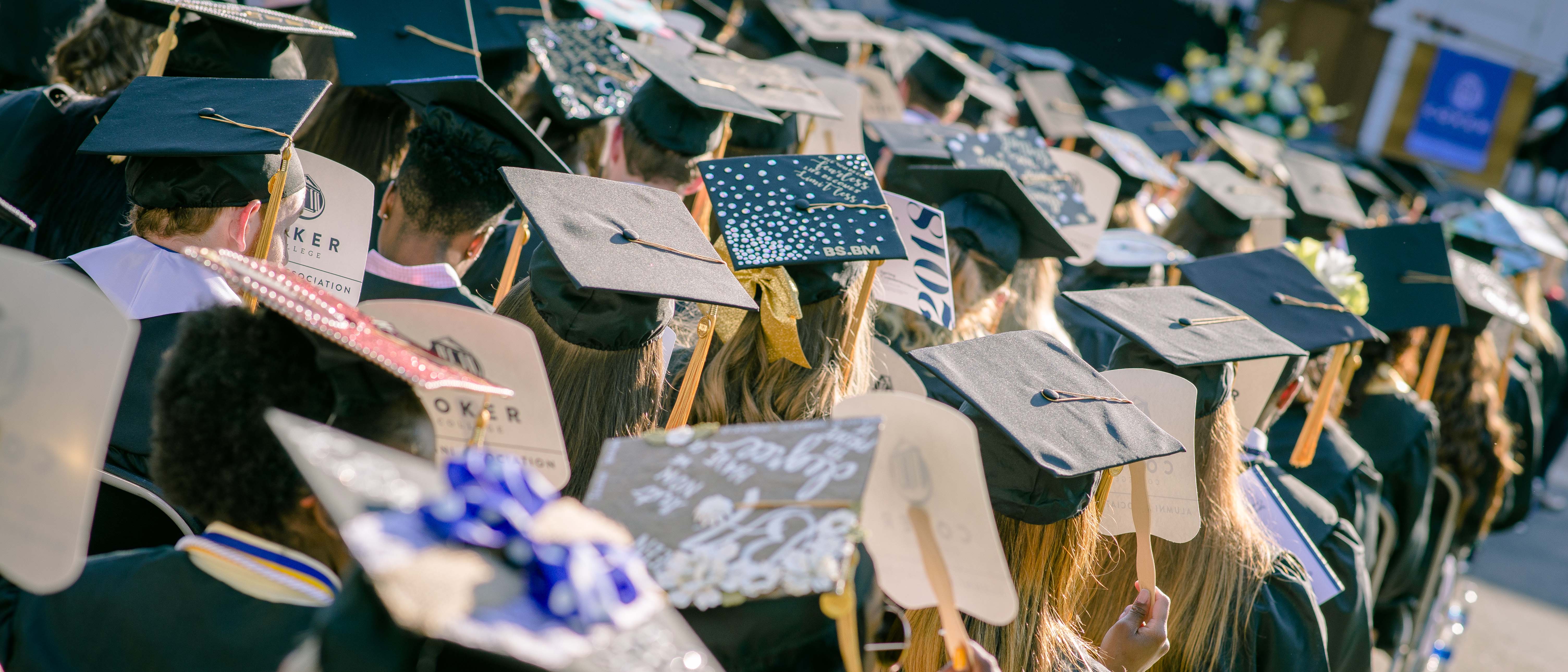 Hartsville, S.C. – May 14, 2017 – On the morning of Saturday, May 12, 2018, during its 110th spring commencement ceremony, Coker College conferred bachelor's degrees on 176 graduates. In a separate hooding and commencement ceremony on the evening of May 11, Coker College conferred master's degrees on 14 graduate students.
"As we watch you graduate this morning, we look forward to following your careers," said Coker College President Dr. Robert Wyatt. "Be assured we will be seeking ways to leverage all of the experiences of the class of 2018 to develop the new programs and opportunities that future Coker students will require...Know that we appreciate the gifts you have shared with us and we are honored to celebrate your achievements."
The ceremony was held at 8:00 a.m. in the Courtyard at Davidson Hall. Sonoco Products Company's newly appointed President and CEO Robert C. Tiede presented the commencement address and received an honorary doctor of humane letters degree.
"The choices you make, the words you use, the actions you take, have a ripple effect and will touch the life of someone else, either positively or negatively," advised Tiede. "The question becomes, how do we live a conscious life, how do we remain conscious of the potential impact our actions have on others and on ourselves?...My humble advice to you is to first pursue a life of significance, not a life of success. And while not mutually exclusive, they are very different."
Tiede has had global leadership, sales and operating responsibility for all of Sonoco's diversified consumer, industrial and protective packaging businesses. Since joining Sonoco in 2004, Tiede has led all of Sonoco's global consumer-related businesses. Most recently, he served as senior vice president, Global Consumer Packaging and Services, responsible for the Company's Corporate Customer program as well as its Rigid Plastics, Flexibles and Display and Packaging businesses. During his tenure at Sonoco, the Company's consumer-related businesses have increased sales by approximately 90 percent and operating profits by 120 percent, as the Company's consumer growth strategy developed broader global packaging and services capabilities.
Tiede, who graduated from Red River College in Winnipeg, Manitoba, Canada, is a chartered accountant/CPA with the Canadian Institute of Chartered Accountants for Manitoba and Canada. He joined Sonoco as president of Sonoco CorrFlex with the 2004 acquisition of CorrFlex Graphics' point-of-purchase merchandising display and supply chain management business. In 2006, Tiede assumed responsibility for Sonoco's global packaging services business, and in 2007 he was named division vice president and general manager of the Company's Flexible Packaging division.
Prior to joining Sonoco, Tiede worked in private equity as president of Bostic Packaging/CorrFlex from 2000 to 2004 and president of Sterling International from 1998 to 2000. He also served as executive vice president of operations for Graphic Packaging International, Inc.'s flexible packaging division from 1994 to 1998.
Tiede is active in industry and community organizations and is the incoming chairman of the Flexible Packaging Association and the chairman of the Hartsville United Way. A native of Winnipeg, Manitoba, Canada, Tiede became a U.S. citizen in 2013. He and his wife, Val, reside in Hartsville and have three grown children.
Sonoco is a $5 billion global provider of consumer packaging, industrial products and packaging supply chain services, producing packaging for many of the world's most recognized brands, in markets such as appliances and electronics, automotive, beverages, confection, construction, converted paperboard, fresh and natural food, frozen and refrigerated food, shaving, home, lawn and garden, medical/pharmaceutical, pet care, powdered beverages, recycling and snacks. Headquartered in Hartsville, S.C., Sonoco has more than 300 operations in 33 countries, and serves customers in 85 nations.
Student Government Association president William Zane Vanhook, IV ('18), presented the 2018 Master Professor of the Year award to history professor Dr. Kevin Kenyon. Sydney Nicole Shull delivered an address as a representative of the class of 2018, Sarah Madison Floyd ('18) performed the national anthem and Tyler Nathan DeLoatch ('18) performed the Coker College alma mater.