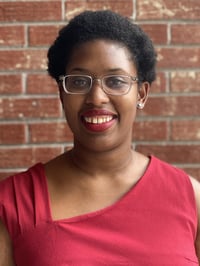 Areyonna Keels, Coker class of 2015, is the winner of the Coker University Alumni Association's 2020 Outstanding Young Alumni Award. This prestigious award is given annually by the Alumni Association and presented to a graduate of the past 20 years who has already made significant achievements in his or her chosen profession and who shows exceptional potential for future accomplishments.
Keels is a Bilingual Victim Advocate at People Against Rape (PAR) and the Community At-Large Representative for the Charleston County Criminal Justice Coordinating Council (CJCC) in Charleston, South Carolina. In December of this year, she will have successfully completed law school at the Charleston School of Law and will continue connecting people in her community to resources and creating social change through outreach and advocacy.
Before joining the PAR team, Keels worked as the AmeriCorps Volunteers in Service to America (VISTA) for PASOs' Tri-County team helping provide resources to local Hispanic and Latinx communities. She has been a Certified Victim Services Provider since 2019. She has also worked as an ESOL teacher in Chile, Nicaragua, and the Dominican Republic.
Keels is an active volunteer with Charleston Pride, My Sister's House, the Charleston Tri-County Sexual Assault Response Team, the Tri-County Human Trafficking Task Force, MUSC's Healthy Families of America Advisory Board, and the Dorchester County Human Services Coalition.
Keels earned her B.A. in Spanish from Coker in 2015. While at Coker, she was on the women's volleyball team and a member of Enactus. She also taught SAT/ACT Prep courses to local high school students.
As part of Coker University's 2020 Homecoming, Keels will be recognized Saturday, September 26, at 8pm, at a virtual event with Dr. Natalie Harder, President of Coker University. Anyone interested in attending the event can find more information at coker.edu/homecoming.