On Friday, October 27, 2017, Coker College will commemorate its designation as an All-Steinway School with a celebration event attended by Ron Losby, CEO of Steinway Musical Instruments, and Steinway artist David Osborne. Coker is the third college in South Carolina and the only college in the Pee Dee to have the distinction of being an All-Steinway School.
It took five years and $600,000 in dedicated fundraising for Coker to earn this distinction. The honor of being an All-Steinway School is a designation given directly by Steinway & Sons. It means that 90% of a school's pianos must be Steinway & Sons, Boston or Essex pianos and a maintenance plan must be in place as Steinway & Sons insists that their pianos be kept in performance quality condition.
"...knowing that we have these amazing instruments, it gives me inspiration and incentive to practice."
"The school's achievement in becoming an All-Steinway School is really incredible, especially for the students," said Coker student Justin "Blade" Boulware. "Being able to play on these high quality instruments gives students an advantage because we are able to advance musically and technically due to the brilliant responsiveness of these pianos. Having these pianos brings concert stage quality instruments to our practice rooms which further prepares us for the concert stage. Also, knowing that we have these amazing instruments, it gives me inspiration and incentive to practice."
With an inventory of 12 Steinway & Sons Boston vertical pianos and 11 Steinway & Sons grand pianos, Coker joins an exclusive group of only 175 institutions, colleges and universities in the world to have this privilege; that's less than one percent of colleges and universities worldwide."Our loyal donors have made the All-Steinway School possible," said Will Carswell, vice president for external relations and professor of music at Coker. "This designation demonstrates Coker's commitment to excellence by providing the best instruments possible for the study of music. We have achieved a dream for our students and faculty! In addition, officially becoming an All-Steinway School will enhance our recruitment efforts in attracting talented new students to our program."
Steinway & Sons has an impeccable reputation for manufacturing the world's finest pianos. Their instruments are exclusive to 97 percent of all pianists performing with orchestras around the world. World-renowned artists such as Lang Lang and Billy Joel praise Steinway & Sons for its craftsmanship and quality.
"What our most coveted trademark tells the world is that this school is committed to excellence, just as we have been for 160 years."
Each Steinway & Sons piano has 12,000 individual parts and takes approximately three years to make, ensuring each is unique and flawlessly assembled. They use only the finest solid woods that have been carefully selected, cut and seasoned. They let the wood mature for up to two years before it's used in a Steinway piano. The company has two manufacturing facilities: one in Queens, New York, and one in Hamburg, Germany.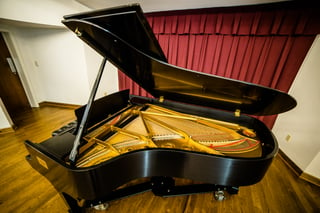 As an All-Steinway School, Coker offers its music students, faculty, guest performers and the community the highest quality pianos in classrooms, practice studios and performance spaces, and it gives Coker a competitive edge when recruiting musical talent."Having state-of-the-art pianos available for my use encourages me to practice and excel at my art," said Anna Dickinson, a Coker student. "I enjoy being able to teach my students on these pianos as well since the average household cannot afford a Steinway grand piano. For Coker, this is a great achievement and shows the dedication that this school has to the arts. These fine instruments will encourage future generations to come to this school and put their own mark on Coker's music program." According to an article published in The Steinway Chronicle, when describing the All-Steinway School program, Sally Coveleskie, national director of institutional sales at Steinway & Sons, said, "What our most coveted trademark tells the world is that this school is committed to excellence, just as we have been for 160 years."
"The Steinway Initiative ensures that Coker is a hub for serious music-making, giving us the infrastructure to be a leader among our peer institutions," said Ryan Smith, assistant professor of music at Coker College. "Coker students and faculty benefit from the instruments needed to make great music, but we also constantly search for ways to engage the community through public performances, institutes and camps, and our pre-college music program."
"It has been a musical privilege to play, perform, and learn on these awesome instruments," said Matthew Stalnaker, a Coker student. A privilege that will continue with future generations of students, faculty and guest performers.
Coker's Ryan Smith Earns Steinway's Top Teacher Award
In addition to becoming an All-Steinway School, Coker College's assistant professor of music Ryan Smith was awarded the Steinway & Sons top teacher award. The award is given annually for outstanding instruction and leadership in piano education.
"Ryan is a thoughtful and sensitive teacher who inspires his students to excel in a supportive and nurturing environment," says Graham Wood, professor of music and coordinator of the music and musical theatre programs at Coker.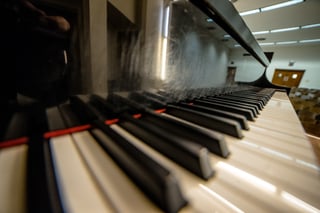 "I've been fortunate to have gifted students in Hartsville through PULSE, the Community Music Program and at Coker," says Ryan. "They inspire me and open my imagination, which I always hope opens theirs. And I've always felt an incredible sense of support and respect from my colleagues here."
Coker's Summer Piano Institute Continues to Flourish
One of Smith's passions is his brainchild, Coker's Summer Piano Institute, a week-long program during the summer for as many as 12 select junior high and high school pianists hosted by the college's department of dance, music and theatre. The 2018 summer institute will mark the initiative's fifth year.
Smith said, "The summer piano institute might be the best week of my professional year. It is an extraordinary experience watching these students learn music so quickly and so beautifully."
The piano institute has seen impressive growth over the last four years, including adding scholarships and teachers, and featuring some of the top pianists in the state, including Ryan Greene from Lexington, a student of Joey Rothfuss from Columbia, and Nick Robins from Chesterfield. (Robins is also a four-year alumnus of the piano institute.) Both won merit scholarships for the 2018 institute. Smith hopes to add other music-based institutes to Coker's summer offerings, including a vocal/choral and musical theatre institutes.
"The most exciting part for me is seeing the participation from students from a much wider radius participating," said Smith. "In 2014, there were two out-of-town students out of eight. In our fourth year (2017), there were four from Hartsville out of 12. I received a note from a teacher in Columbia at Christmas with a video thanking me for inspiring her student last summer. That's what this is all about -- inspiring young men and women to share in a deeply profound art. We have a unique opportunity at Coker to build a great hub for music making in this region, and I hope that it will grow beyond what anyone imagined."