On the morning of Saturday, May 11, 2019, during its 111th spring commencement ceremony, and the last commencement ceremony for Coker College, bachelor's degrees were conferred on 144 graduates.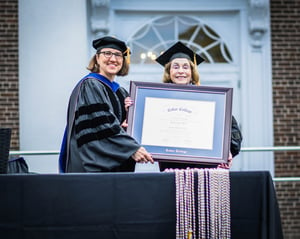 Dr. Marlene Ross, a higher education consultant and former longtime director of the American Council on Education (ACE) Fellows Program, presented the commencement address and received an honorary doctor of humane letters degree.
"Whatever your destination, it will be a time of change, often filled with fear of the unknown," said Dr. Ross. "Coker College has prepared you well to meet the challenges of your future…Give to others. Continue learning. Take educated risks and grow. Be sure to give back to those who have helped you along the way, including your university. Go forward and continue to make yourself, your family, and your University proud of your achievements."
One of Coker's highest honors is the Algernon Sydney Sullivan Award, which is typically bestowed upon one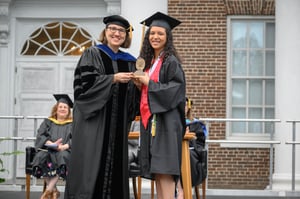 student and one community member who exhibit "selflessness, generosity of service, nobility of character, integrity, and depth of spirituality." The 2019 Algernon Sydney Sullivan student award was given to Destany Gause ('19). The 2019 Algernon Sydney Sullivan community member award was given to two recipients this year, Lori Huffer and Johnna Shirley.
Student Government Association president Temaris Dixon ('19) presented Dr. Shawn Lay, professor of history, with the 2019 Master Professor of the Year award. Geathel Galbreath, Elizabeth Kincaid, Gabriel Castro, and Joao Victor Santos each made brief remarks as representatives from the class of 2019. Paigelyn McElveen ('19) performed the national anthem and the Coker College alma mater.
In a separate hooding and commencement ceremony on the evening of May 10, Coker College conferred master's degrees on 45 graduate students.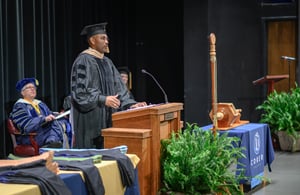 The commencement address was presented by Dr. Dennis Burke, special lecturer of business administration at Coker College.
The spring class of 2019 is the last graduating class of Coker College. On July 1, 2019, the institution's name will effectively change to Coker University.