In 2003, at their 50th reunion, the Coker College class of 1953 decided to establish an endowed scholarship. In 2019, they reached their $60,000 fundraising goal.
"The class of 1953 was the first class from Coker College to establish an endowed scholarship," says Dr. Robert Wyatt, president of the college. "It required an enormous commitment, tireless dedication, and a deep love for this institution. Coker College is deeply indebted to these women for their generosity and their championing our mission."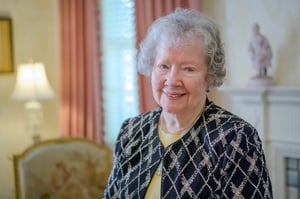 "We wanted to give back to the college that had given us so much," said Pat Chapman Huff, '53. "We were going to start endowing a scholarship. It required $10,000 before it could be endowed. We started in 2003 working on it. Through phone calls, visits, almost begging, class letters in The Commentary, we urged our class to give. When we reached our $10,000 goal, we thought we could do more. So we kept on."
For Huff and so many other Coker students, scholarships made a college education a possibility. "Back then, I had an invalid sister, and all the money my parents made went to pay hospital bills," Huff remembers. "I didn't think I could afford to go to college." But because of good grades in high school and her work ethic, Huff received scholarships to attend Coker. "I wanted other students to be able to come to Coker, and through giving an endowed scholarship, we could assist them," she says.
"Every year at the legacy luncheon, when I get to sit next to a student that received our scholarship, you don't know how much that touches my heart," says Huff. "Because Coker gave to me and to us, we wanted to give back to Coker, and we feel like through this endowed scholarship, we have helped repay."
At Alumni Day 2019, the class of 1953 made the announcement that they had raised $60,383. "We were so proud," says Huff.