By Nicholas Beiers ('20), Coker College Digital Campus Ambassador and 2018-2019 SGA Chief Public Information Officer
This Student Org Shoutout is for the Astronomy Club!
Astronomy Club is a really great way for people who are interested in astronomy to learn more about it. The Astronomy Club was founded in the 2014-2015 school year, and has been growing ever since! They tend to meet about twice a month, hosting around 12 events a year. Whether you are a novice or have never looked at the stars before, the Astronomy Club has something for you.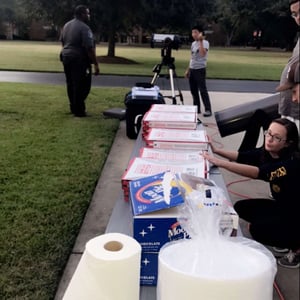 President Micah Hancock says, "Astronomy Club allows the opportunity for students who have a curiosity for space and science to expand their knowledge or for those who just really love to hang out and get to know new people! We love space almost as much as we love pizza!"
Recent events that the Astronomy Club has done include many moon and star viewings, as well as sometimes sun viewings! The Astronomy Club also take trips to USC for their Astronomy lectures and have a big camping trip every year. They also host a big Star Wars day event for "May the Fourth be With You."
If you have a passion for the sky and want to join the Astronomy Club, reach out to Micah Hancock at micah.hancock@coker.edu to join!!