According to the U.S. State Department's latest annual Trafficking in Persons (TIP) report, Myanmar has a devastating human trafficking problem. In addition, almost half of the country's population live in poverty or are near-poor, and the rural populations face the biggest obstacles to overcoming substandard living conditions.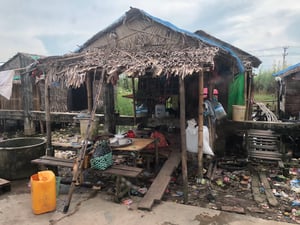 In August 2017, eight Coker College Enactus student members and their team director traveled to Dala, Myanmar to install aquaponics systems and water purification systems. After returning, they successfully fundraised enough money to buy a feminine hygiene press so the women in Dala could have access to sanitary napkins.
In October of this year, four Enactus team members traveled to Myanmar with director Andrew Taske––Evan Bachman ('20), project leader, Kiisha Hilliard ('20), Jennifer Ruetten ('19), and Reilly Hall ('21). After their return, the team wanted to make even more of an impact on the many needs of the community of Dala, many of those needs being the most basic of human necessities, including clean water, food, and education. This led them to their latest campaign, Myanmar Empowerment.
The goal of Myanmar Empowerment is to strengthen the team's partnership with New Hope, a non-governmental organization based out of Myanmar that operates a number of community centers in rural areas, in an effort to end human trafficking and provide the people of Myanmar with the resources necessary to become self-sufficient. The community centers serve as safe spaces for members of the community and offer everything from basic education for children to life and work skills workshops for women and men. Coker Enactus's latest fundraising campaign will provide resources for these community centers, including food, school supplies, salaries, and opportunities for skill development within a small business environment.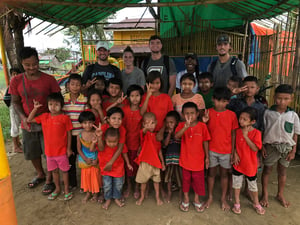 "When we went back the second time, we did a full new needs assessment and realized that it needed to be more of a partnership, where we were collaborating throughout the year and helping them expand their businesses and expanding all the efforts that [New Hope is] currently doing there," said Bachman.
"We are actually going to empower nearly 300 people just within one skill center a year," said Taske. "The vision is truly Enactus; it's truly social entrepreneurship. We help put the investment in, and [New Hope] trains on welding, computer skills, selling. Then they take those skills and go into the community and make money."
Anyone interested in sponsoring Coker Enactus's Myanmar Empowerment project can give at one of three levels: $250, $100, and $50. In return, you'll receive a handmade item from the women of Dala, Myanmar.
If you give $250, you'll receive a handmade pillowcase and your sponsorship will help feed three children over the course of one year. If you give $100, you will receive a handmade bag and your sponsorship will provide the opportunity for one adult to complete a three-month skills training program in sewing, welding, or information technology. Upon completing the training program, the individual will be empowered to join the workforce and earn a living for his or her family. If you give $50, you will receive a handmade tissue cover and your sponsorship will provide school supplies for children in Dala, including uniforms, shoes, and backpacks.
"It's a way of...actually giving people that are supporting the cause a tangible item so they can look back on it and say, I can see this and I know I'm helping kids and men and women in Myanmar get away from human trafficking, and helping them get away from food insecurity," said Bachman.
Anyone interested in donating, sponsoring or contributing to the Myanmar Empowerment project can contact Coker Enactus director Andrew Taske at ataske@coker.edu.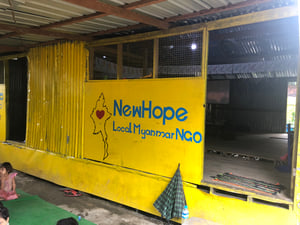 Coker Enactus will evaluate their success by staying in close contact with New Hope in Myanmar. "We are planning on doing monthly Skype calls with them to track the progress of the implementation of these new job training courses, how many people are graduating from those, and then how many people are getting jobs," said Bachman. "We'll also help them with the new business model of how to take their products and sell them for a profit."
Enactus is an international organization that connects student, academic and business leaders through entrepreneurial-based projects, empowering people to transform opportunities into real, sustainable progress for themselves and their communities. There are more than 400 Enactus teams that compete for a chance to go to the National Exposition, and the final four teams present in front of more than 1,000 people. Coker Enactus is one of the top three teams in the nation.
Perspectives from the Coker Enactus team members that recently traveled to Myanmar...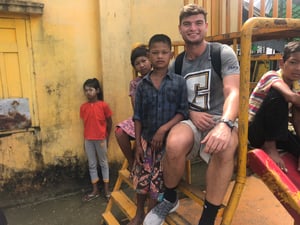 "The first time I went, it was a humbling experience of seeing the poverty and seeing people battling just to live day by day. That was very powerful for me and it also helped me become invested into the Enactus team and all the things that we're doing to empower people's lives. Whereas the second trip, after being promoted to the project leader, it really helped my leadership skills and also business skills like how to negotiate a partnership and how to think outside of the box to find a solution." -Evan Bachman ('20), Myanmar Empowerment project leader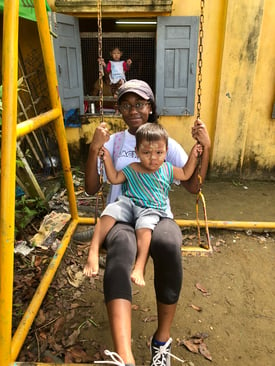 "After the trip, I realized the importance of the work that our Enactus team is doing. Sometimes being far from a project doesn't allow you to see the change that it's making. By going to Myanmar, I saw our work directly impacting people's lives. I gained a greater appreciation for things that I normally take for granted in life, such as clean water. I learned a lesson from the children of Myanmar, which is to be happy no matter your circumstances. The children are extremely poor, and some played on muddy playgrounds, but the pure joy on their faces showed that happiness really does come from within and not from your circumstances." -Kiisha Hilliard ('20)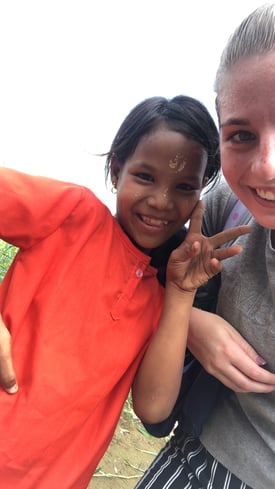 "Seeing the terrible conditions the people in Dala, Myanmar, lived in made me realize that I am complaining about such silly things in my everyday life while these people have actual problems of survival...When we played with the children, I assumed most of them were between the age of 3 and 9 but when we found out their actual age, I was just shocked because all of the children were at least 2-3 years older than what I had assumed. They are all so malnourished that their body and brain development is not as advanced...it really shocked me...Something that made me really happy on this trip was seeing how these children were so happy and playing like normal kids, although they literally had nothing and were playing in mud. This showed me that it is not the monetary things in life that make you happy; it is about relationships and love...It was also great to see that there is someone like New Hope who cares about people in need and dedicate their lives to help these people, I have a lot of respect for them. Being on this trip made me realize that I want to help people as well, because there is nothing better than putting a smile on people's faces, and maybe work for an organization like the United Nations or UNICEF...The trip to Myanmar has taught me to be more grateful in life and not take everything for granted. Instead of wishing for huge Christmas presents, it has a way longer and stronger impact to just wish for a nice Christmas time with your family because this is what actually makes us happy." -Jenny Ruetten ('19)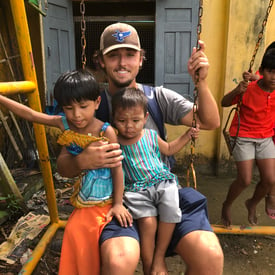 "Being able to go on the Myanmar trip with Coker Enactus was without a doubt one of the greatest weeks of my life...Life-changing would be one way to describe this trip. Working hands-on with the people of Myanmar to tackle many issues such as poverty, human trafficking and prostitution was humbling in so many ways. Going to all of the community centers in Dala, where our feminine hygiene and clean water projects take place, and being able to see how our efforts are making a direct impact on the people was truly amazing." -Reilly Hall ('21)