by Camryn Quick, '21
B.O.L.D. is a new campus organization that was started by student Tyler McCoy, '22. Check out the Q&A below to learn more about the organization.
Q: Tell me a little bit about the organization. What is the mission? What are the goals? What sort of things do you do as a group?
A: As a new organization, officially starting in the Fall of 2020, B.O.L.D. aims to increase and sustain the enrollment at Coker University of all men of color. B.O.L.D. will give students a safe and inclusive space to discuss any challenges that are specific to being of color and/or being a college male student. We will focus on creating a brotherhood that will give the men a sense of belonging. The brotherhood will also utilize education and community service components. As a group we will do many things ranging from getting haircuts and HBCU college tours to having kickbacks for fun.
Q: How did you come about starting the organization? What inspired you to start it?
A: Many students, staff, and faculty have felt that there was a need for an organization similar to B.O.L.D. The need to have something that could positively impact males of color on campus. At first, many were thinking of a mentor group and some even mentioned fraternities. However, Tyler McCoy decided to take a little bit of all the ideas to implement into one organization.
Q: How did you name it? How do you recruit people for it?
A: Tyler McCoy, founder and President of BOLD, thought of many names but the word "bold" stuck out. It stuck out because bold is what men of color have to be in order to survive and be successful. Brainstorming each letter of "bold," Tyler came up with Black Optimistic Legit Distinguished Men of Coker University, otherwise known as the B.O.L.D. MEN. Recruitment primarily took place on social media platforms such as Instagram and Facebook. Using creative flyers that explain BOLD's mission and goal, membership grew from 0-20+ in two weeks. When returning to campus, the hope is to use some of our networking and programming to recruit more students!
Q: Why do you believe the club is important for the Coker community?
A: B.O.L.D. is definitely important to Coker because it highlights the best parts of Coker. Coker believes "It's your story" and B.O.L.D. definitely encourages that story to be a positive one! Each member has his own reason why B.O.L.D. is important and that is the beauty of it all.
Q: What do you wish to accomplish together?
A: To create an effective, positive, educated, and supportive brotherhood will be the great accomplishment for B.O.L.D.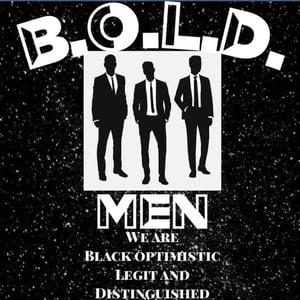 Q: How would one go about joining if interested? What are you looking for in your members?
A: If interested, contact us on Instagram @cu_bold or Facebook @cubold.
B.O.L.D. is an organization whose mission is to create a brotherhood for male students of color. Any students interested in achieving that mission is welcome!"
Q: Is there anything else that you would like to share?
A: B.O.L.D. is currently working on creating chants and step routines for our members to participate in the future!
Dr. Danny Malone is the advisor for B.O.L.D. Men.