Throughout my school career, I always enjoyed taking Spanish courses. They provided an opportunity to open a new door into a culture other than my own. Despite my interest in the subject, I only took Spanish courses to fulfill a requirement in my degree plans rather than for mere interest in the subject. In addition to being indifferent to the Spanish language, I had no interest in pursuing a study abroad opportunity. However, my college experience changed both perspectives quickly.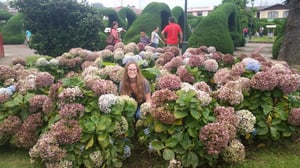 Upon my first semester as an undergraduate, I took an intensive Spanish class with Don Mac at Coker College and my perception on both committing to the Spanish language and to pursuing opportunities to study abroad were inspired.
After hearing Don Mac's high praise of the country of Costa Rica, my feet were wet for a Costa Rican adventure. This was very odd for I had always been a homebody, a worrier of what I would miss while away, and a slow-to-warm-up individual in new places. I had no desire to study abroad. Despite all the reasons I could find to avoid staying in my comfort zone, I was continually drawn to abandon my protests and pursue this venture.
One of many inspirations to studying abroad was the opportunity to minor in Spanish. Spanish has always been interesting to me and I thought it could be beneficial to become familiar with a different language. This interest, along with the study abroad or away requirement of Coker, were key in further inspiring me to study abroad. After a semester abroad studying Spanish, I would only need two additional Spanish classes to add on what I thought to be a valuable minor. I was lucky to attend a small school with amazing Spanish professors. They cared not about a quota, but about my interests and maturing my abilities. The small class sizes were beneficial as well. I was able to get individual attention. At times, I had to break out of my shell and speak (this has always been difficult for me), but it made me a better, more successful student.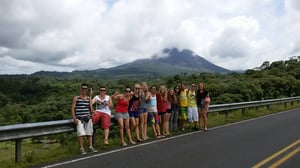 I struggled in my study abroad pursuit, however. I originally planned to go to Costa Rica my sophomore year and then a second time in my junior year, but due to unforeseen issues, both attempts failed. Usually a step out of my comfort zone along with two fails would have stopped my ambitions, but I only became more interested. Going abroad seemed almost impossible as I was approaching my senior year. I had also injured myself losing a good portion of my school funding from my sports scholarship. Despite my many obstacles, I had success in the first semester of my senior year in finally making a commitment to study abroad in San Ramón, Costa Rica.
I thought I would quickly become overwhelmed by all the preparations in setting up all that was necessary to study abroad, but there were several agencies in which professionals handled all the "hard work" for me. I simply had to research the best program, apply, and pay my fees. The program was not expensive in the grand scheme of things. I mentioned earlier I lost a lot of funding my senior year, but my study abroad experience was several thousand dollars cheaper than my semester at Coker. This was still so even with adding on additional, optional fees, such as a five-day field study in Cuba. My program let me study abroad while I was studying abroad!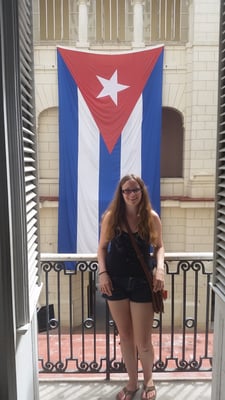 Study abroad, of course, had its challenges. The first night I arrived I had to speak to my host mother, who knew no English. The classes were all in Spanish. These classes were small, however, and I was placed with individuals at my same level. I was challenged, but not broken; every challenge gave me a new skill. There are no doubt adjustments in the environment and experiencing a new culture, but they all made me a better student and, in general, a better, more rounded individual. I grew in academic, functional, and social skills.
Studying abroad gave me several beneficial experiences and skills. I was at first hesitant to go abroad, but ended up wishing I was not in my senior year so that I could have stayed for an additional semester. I learned Spanish in an immersive culture. I was forced to speak the language and I was placed in an area in which I could learn the language in the most effective way. I experienced the culture and traditions by being placed with a host family and made a life-long bond with them.
I made connections to other North Americans around the United States, as well. These individuals helped me to experience the country of Costa Rica and its many wonders. Upon returning to the United States, I went on a road trip and had a handful of homes to visit. The connections I made abroad continued to benefit my wants and needs. My experience grew me as an individual and helped me realize the inner adventurer who was always inside me. My only regret is I could not spend more time in the country I learned to call a second home. I still, to this day, yearn to visit this "home."
It is easy to say, "I can always travel when I get money or when I finish school," but, honestly, the best time is now. You have the best health, most time, and least amount of financial responsibilities as you will from this point on. I also recommend being a student in a country, as you will receive a completely different experience as a student than as a tourist. I saw the country in a different light. On a holiday break, I traveled, as a tourist, to Nicaragua. While I enjoyed this experience, I missed being a student there. Now that I am in graduate school and I am pursuing a career, I do not have the time to go abroad. Responsibilities will only grow, so this is the best opportunity for a once in a lifetime chance. There is always a reason to not go abroad, but it is an experience I would recommend not missing.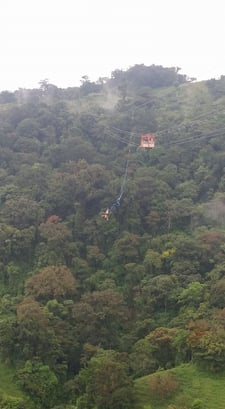 While I was unable to become fluent in Spanish, I am now able to understand the language and to carry on a casual conversation. I still hope to one day become fluent in the language, but it is difficult not being immersed in the culture nor having the time to dedicate to this study.
While I am in graduate school, I work in a restaurant and have been able to assist customers with ordering while they are still learning the English language. If I were to be fluent in the language, I have been told I would get paid significantly more in the professional career I am currently attending school to pursue.
I understand and am more accepting of cultures and people's differences. I feel like this experience helped not only myself, but as well my interactions with and understanding the people and world around me. The world is larger than ourselves and our direct community. At times, it is hard to realize that, because our direct world keeps us so busy. I was forced out of this direct world and my eyes were opened!
I had no plans to study abroad and I never thought I could understand Spanish as well as I currently do. I cannot imagine my life without this wonderful experience. It truly was the best time of my life and I am thankful for the impact it continually has on my life. It is an experience that keeps on giving! The best adventures are out there and simply waiting for someone to leave their comfort zone and pursue them. As the Costa Ricans would say, ¡Pura Vida Mae!
Naomi Watson ('16) is currently in graduate school at Francis Marion University where she's studying to become a school psychologist.