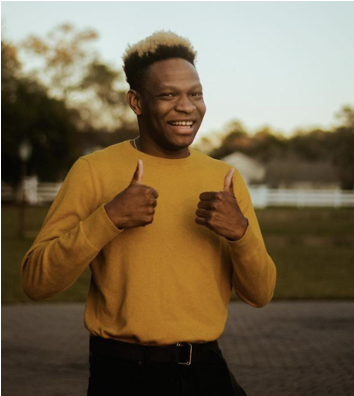 Making money as an influencer and brand ambassador on TikTok may sound like a dream job, but not everyone can create content that goes viral. With so much content saturation in the social sphere, it's hard to get noticed.
Recent Coker graduate, IsaiahWashington, '20, turned to social media when the global pandemic shortened his senior year and left the theatre performance major without a plethora of career options. Isaiah had a role lined up as Puck in a production of "A Midsummer's Night Dream" premiering in Columbia, S.C. and then moving on to Washington, D.C., but the pandemic shelved the production and left Isaiah in need of a job.
He says, "I had a lot of existential crises, like what do I do now? What is my purpose? That's what led me to start my TikTok account because I didn't have anything else going on."
After graduating in May of 2020, Isaiah began driving for DoorDash and since August of 2020, he's been exploring sharing consistent and original content on social media. "Luckily enough I've been able to find a following on TikTok and that helps pay some of the bills now, as well," says Isaiah. "I also stream, as well, playing video games."
A Solid Foundation
Isaiah, a native of Summerville, S.C., transferred to Coker from Charleston Southern University his sophomore year because Coker offered a theatre performance major. "I wanted to make connections and have an opportunity to show what I can really do," he says. "Coming to Coker was me saying, 'I want to graduate with theatre performance, I know what I want to do.' And it worked. It worked really, really well."
During his time at Coker, Isaiah was an influential figure on campus. In addition to starring in a number of performances, including a piece he wrote and performed, he was also vice president of Theatrical Expressions, the university's theatre club, and section leader for Coker's choir. He says, "I learned so many things I wouldn't have learned at any other institution just because Coker was small enough that we were able to pay attention to each other, and we all got a lot of opportunities."
"...A really crazy place"
Currently with 1.2M followers on TikTok (most likely more at the time of this article's publication) and over 102M video likes, Isaiah is regaling his fans with everything from social parodies to cultural awareness, all done with his signature humor and editing style.
When he started his TikTok in 2020, he was posting a lot of content related to the presidential election. "I made parody videos of Hamilton, and that was when I had multiple videos blowing up at once," he remembers. "I ended up with 60K followers."
After the election, Isaiah started making a visual representation series where he took social issues and put them into different analogies. "Those videos were where I got hundreds of thousands of followers," he says. "But they took so long to create and edit, I got burned out."
"TikTok is a really crazy place," he says. "It's kind of hard to manage because sometimes your videos will do really well and sometimes they won't. You have to manage your expectations. You can't expect to go viral every week."
"It's not a self-promotion app; the app promotes you," he continues. "You have to fit into what the algorithm wants...The moment I think when a lot of TikTok users go wrong is when they start questioning when they're going to get their viewers back. You just have to push through, push forward, and make videos for yourself. Your numbers will come back."
Posting daily, Isaiah has found a routine that works for him. He will post a video and hang around in the app for 10 minutes or so responding to comments. Then he gets off the app for several hours (otherwise he would just be checking and obsessing over numbers). Then he logs back in after four or five hours to see where things stand. If a video has 50K views at that point, there's a good chance it will go much farther. If it has less than 50K, it's probably not going to do much better. Sometimes there are those wild one-offs and a video that's a week old will all of a sudden jump from 10K views to 1M views or more.
Earning Money as a Content Creator
Isaiah earns money through the TikTok Creator Fund. According to TikTok, "The Creator Fund is not a grant or ad revenue sharing program. Creators receive funds based on a variety of factors from their videos, and creators will know that performance on TikTok is dynamic - it changes naturally - so your funds will ebb and flow in the same way."
Isaiah explains, "It pays you based off of the views and the likes you get on your videos...If I'm going viral –– a video with close to a million views –– I'll get paid pretty well [that week]."
Once you've established a solid following, from there, different companies might approach you for advertisements and sponsorships. "They'll send you products and you'll make videos about those products, and those individual companies have their own way of paying you," says Isaiah, who is a brand ambassador for the game What Do You Meme? He was discovered on TikTok by the brand and contacted directly for the partnership.
"You need some big numbers to make any money off of [the TikTok Creator Fund]," says Isaiah. "And even then, it's not huge amounts of money...I imagine that the bigger you get, like a super TikTok star, then you're probably getting paid a lot of money." You can sign up for the TikTok Creator Fund when you have at least 10,000 followers and are at least 18 years old.
Isaiah notes that once you add money into the equation, you add quite a bit of stress as you start angsting about your number of followers, views, likes, and comments –– that natural ebb and flow of social media engagement.
"Once you figure out that TikTok algorithm and find your style, those followers come quick," says Isaiah. "It's not a get rich quick scheme, but you can make money."
Making It Work
Isaiah's best research comes from using the TikTok app. He gets a lot of his material from the app itself, poking fun at jokes or videos that are trending.
"I need to figure out what I want my content to be as a whole, what do I want people to know me for," he says. "I'm still trying to figure that out."
If you're interested in becoming a social media star, Isaiah says to watch the content that you want to make, but be sure and create your own original content. "Don't steal other people's jokes," he advises. "You're better than that." Also, consider creating a series -- doing something similar in each video. He says, "Find the people that you like, the content you like, then get to work...Let your creative self fly."
Isaiah is looking forward to a time when theatre work will be more readily available as he wants to continue performing and writing. In the meantime, he'll keep creating original content and moving the needle closer and closer to a viable career as a social media sensation.
"Don't think that people don't care who you are," says Isaiah. "They'll come if it's good."
You can find Isaiah on social media, including Twitch, at @relatableIsaiah. Isaiah would like to let it be known that his TikTok content is NSFW.