By Justin Steeves, Intern in Coker University's Office of Marketing and Communications
Scott Sewell is a Coker University graduate who earned a degree in Interdisciplinary Studies, which he now uses in his everyday job as the assistant sports editor with The Sumter Item, a daily newspaper located in Sumter, South Carolina.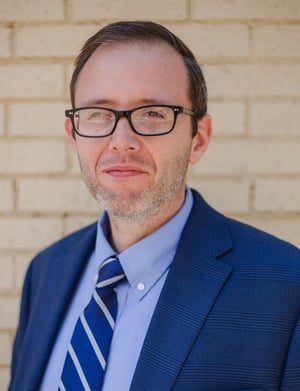 You may be asking yourself what is interdisciplinary studies, since it isn't a traditional major. Interdisciplinary studies is an ideal academic opportunity for students who are interested in going beyond the confines of a conventional major. Rather than following a more structured, traditional educational pathway, interdisciplinary studies majors work with faculty advisors to develop a customized series of courses—including research, independent study, and in-seat classes—that best aligns with their goals, talents, and vision for the future. All interdisciplinary studies students begin their majors with an introductory course in interdisciplinary studies, followed by a selection of lower- and upper-level courses in their chosen fields. They will also participate in an internship and complete a capstone project.
During his time at Coker, Scott realized that interdisciplinary studies could serve as a means to an end. In just two years, Scott took courses in education, business, physical education, sociology, and communications before he finally settled into interdisciplinary studies where he was able to apply the credits from those various disciplines to his overall degree progress. He learned early that the best employees are dynamic thinkers, capable of approaching problems from a variety of angles and perspectives, and that every single job he has had required utilizing skills from multiple disciplines.
Scott right now is working as the assistant sports editor with The Sumter Item and he is the happiest he has ever been. He says that part of the reason for his happiness is that he is working for a newspaper that 'gets it.' He says that the management understands that the newspaper industry needs to change so they are trying a variety of new things to reach their audience in 2019 such as podcasts and video series, and also real engagement with their audience in social media. While his current job could be seen in the industry as a stepping stone, he is perfectly happy with what he is doing. He said he doesn't need to cover pro sports to be happy; he gets the same amount of satisfaction watching a high school cross country meet.
During his time at Coker, Scott said that the internships were very important to him. He viewed his time at Coker as a way for him to identify a career he could be passionate about. This led to Scott volunteering and interning in the Coker athletics department, and that's where he realized he could take all of these skills that he built over a year and use them to tell stories of student-athletes and coaches. Scott's internship turned into a full-time job with the Coker athletics department, and the title of Interim Director of Athletic Communications. With the connections he made during his internship, a career in the newspaper industry became a possibility.
Scott's favorite aspect of the IS program is that Dr. Klimek gives her students the freedom to create their own path. He was given the ability to be creative and come up with his own assignment which led to the creation of a podcast called 'The Quiver,' where he interviewed past Coker student-athletes about their time at Coker. The assignment gave him the skills of how to make a podcast, how to interview people, and editing audio clips. It gave him something he could put into his portfolio and take with him to show to potential employers.
For Scott, majoring in interdisciplinary studies didn't seem to be a challenge while looking for a job as it never came up in his interview process. He feels that if it had come up, he probably would have argued that most liberal arts students would be better off in IS than focusing on one specific discipline. He does think at the very least, the world would be better off with more people that are practiced in looking at problems from multiple vantage points, with nuance, and empathy, which is what he believes IS is capable of achieving in the right situation.