During the past 3 years, we've all had to learn to adapt to rapidly changing circumstances due to the COVID-19 pandemic. Like other institutions, Coker had to quickly adjust the way it conducted everything from classes to athletics to housing. Part of that adjustment included limitations on the way our alumni could come back home to campus. Homecoming 2021 was a joyous first step for our campus back toward "normalcy" for our alumni, and April's Alumni Day was another exciting moment for our alumni to return to Coker.
Historically, Alumni Day is when Coker conducts its Golden Circle Celebration, a commemoration of a class's 50th reunion. While all alumni are welcome, the class hosting its 50th reunion is in particular celebrated and honored.
In April 2020, the Class of 1970 was weeks away from hosting its Golden Circle Celebration when all campus activities shut down. The event was postponed, though no one knew for how long. Little did we know, in 2021 the Class of 1971's 50th reunion would be postponed as well.
Despite these challenges, a unique opportunity for celebration was presented as the campus reopened to the public in 2022. Due to the diligent planning efforts of Gayle Sawyer '70, Brenda Stewart '70, Sarah Jo Safrit '71, Janie Campbell '72, and Sarah Haarlow '72, the classes decided to join forces and put on the first Alumni Day celebrating the 50th reunion of multiple classes. Planning such a joint reunion just made sense, seeing as these classes shared deep bonds across the years going all the way back to their time as students at Coker.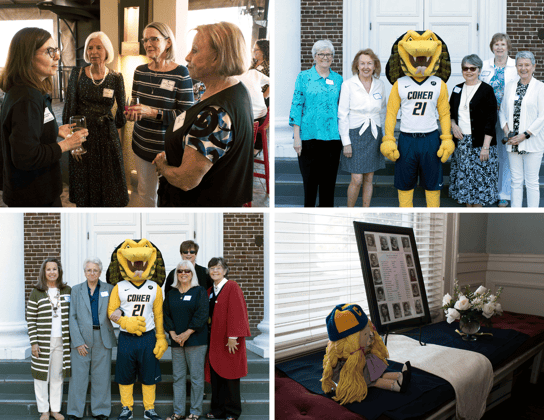 The festivities began on Friday evening, April 1st, as Dr. George Sawyer returned to campus to give a guided tour of Kalmia Gardens. On Saturday, April 2nd, alumni had a filled schedule to reconnect with Coker and classmates. Alumni shared meals withclassmates, took customary class reunion photos, and got to hear from and meet President Harder. Coker alumni spanning multiple generations attended, with graduates from classes as early as the '60s all the way up to 2020. The day ended with a tour of campus to see sights both familiar and new.
There was added significance to the joint celebration, as the Class of 1970 was Coker's last all female class before beginning to admit men in 1971. Gayle Sawyer '70 reflected on the unique intersection of being the last all-female class, the meaning of that legacy, and the reunion celebration:
"Kudos go to the Coker Class of 1970 for continuing our legacy of commitment to Coker students by endowing a scholarship as our fiftieth reunion gift to the University. Legacy is an accurate description because in May 1970, our class, as one of our senior class gifts, established the Dr. Elizabeth Davidson Student Emergency Loan Fund which still exists and was utilized several times during the 2021-2022 academic year by students with various financial needs.
Many members of the class, the last all-female one at Coker College for Women, have expressed the impact Coker had on our personal growth and careers. Therefore, we opted to designate the Class of 1970 Scholarship for the support and encouragement of students who demonstrate leadership at Coker.
In addition, we have acknowledged since 1970 that the continuous involvement of Coker's alumni is essential for future generations to have the opportunity we did for a unique Coker education. Our hope is that current and future Coker students will appreciate that opportunity, will develop the love for the Coker experience that we have, and will pay it forward with a legacy for students who follow them."
In the 1970s, Coker evolved from a campus of women to a coeducational institution. In the 2010s, the school transitioned from being a College to a University. And today, in response to a world changed by necessity due to a pandemic, Coker has adapted in totally unexpected ways from the way it conducts classes to the way it hosts treasured traditions like Alumni Day.
Alumni Day is yet another great reminder of what Coker was and how it carries that legacy, that heartbeat, into its future evolutions. While Coker is always changing in response to the needs of today's students, it continues to stand on the legacy of those who came before. And of course, that includes the trailblazing classes of 1970, 1971, and 1972.
Alumni Day 2023, celebrating the Golden Circle reunion of the class of 1973, will be in Spring of 2023. Details will be announced in this newsletter. Alumni seeking to reconnect with Coker can save the date for Homecoming 2022, which will be October 14-15, 2022.