South Carolina boasts 11,000 miles of beautiful rivers, creeks and streams, but many fail to meet water quality standards.
The leading threat to water quality today is stormwater. Water that goes down our storm drains travels all the way to our waterways, picking up everything along the way––fertilizer, trash, oil, and much more. This kind of pollution is incredibly difficult to address because it involves water collection from extensive areas without any type of filtering system.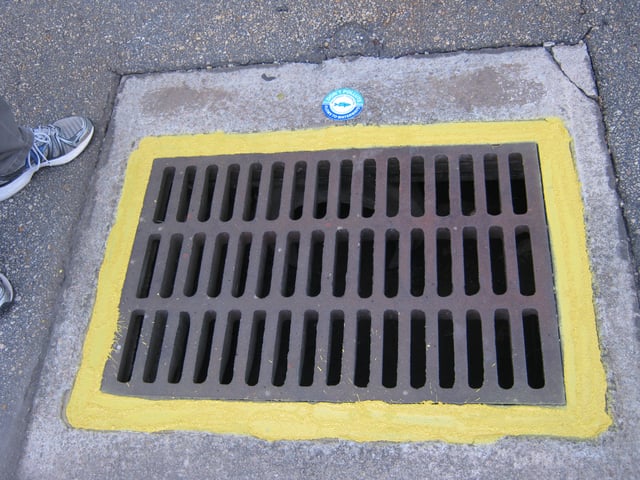 Kalmia Gardens, with the help of a generous $77,500 grant from Duke Energy and donations from the Darlington County Master Gardeners, Carolina Clear, and the McAdams Company (Charlotte, N.C.), is implementing an innovative regenerative stormwater conveyance (RSC) system, which will replace its current on-site storm drain infrastructure.
Water that goes down our storm drains travels all the way to our waterways, picking up everything along the way.
The first of its kind in the Pee Dee, the RSC system will help reduce the pollution load entering Black Creek by slowing down the runoff and filtering it through a series of five pools that will have riffles (rock beds and sandy soil with plants) and supportive ecosystems to help sift out pollutants.
"We're going to slow that water down and we're going to filter that water," says Dan Hill, assistant director of Kalmia Gardens of Coker College. "On top of that, we're going to have engineered soil, which is going to be really sandy and carbon-based, and it will allow for surface water to infiltrate and recharge the groundwater. And as it goes through the carbon and as it passes by all these plant roots, those pollutants will be filtered out."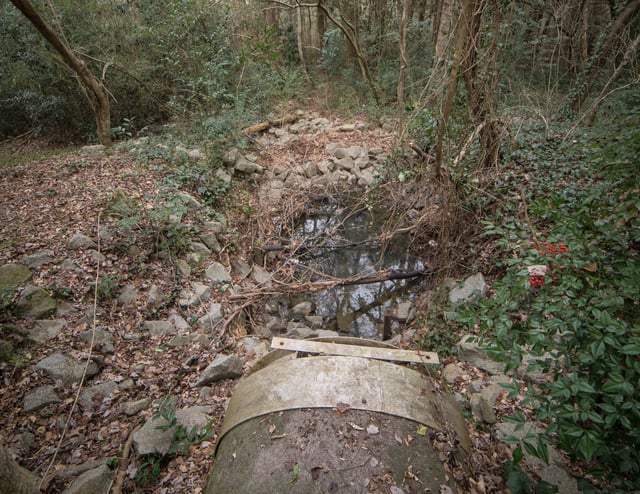 Currently, Kalmia's storm drain infrastructure (see image above) is typical of most communities––a high flow of water at an outfall point. Kalmia Gardens serves as an outfall point for stormwater collected from 308 acres (an area that stretches from the Gardens to Highway 151), with a high flow of water rushing downhill out of a large concrete pipe and heading directly into the floodplain and Black Creek. Because the stormwater is running directly into the floodplain, the pollutants are able to travel much further, making this common method of stormwater management inadequate in protecting against water degradation.
"We're going to slow that water down and we're going to filter that water."
"One of the core goals of Kalmia Gardens is to be a leader in environmental education, and with this project we can show the perils that face our waterways and provide a sustainable solution to these problems," says Hill.
RSC systems are unique in that they provide all or some of the full range of stormwater management criteria, including groundwater recharge, volume reduction, water quality treatment, channel protection, and flood control. In addition to the hydrologic benefits, RSC systems restore site ecologies from smaller micro-habitat elements to more significant forest floor systems. (Below is a picture of the construction of the RSC at Kalmia Gardens.)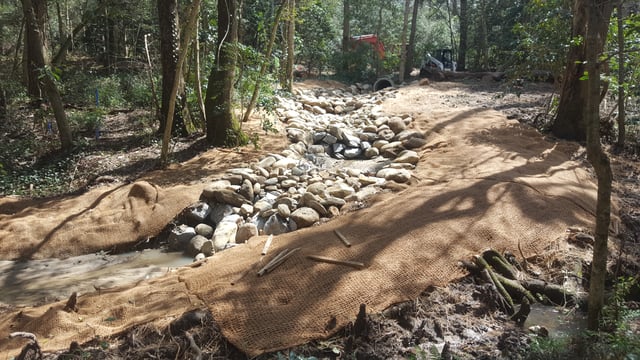 "It's neat because when you get plants in the ground, there's a plant/fungus relationship and that fungus does a lot of work in tying the forest components together and in filtering out pollutants," says Hill. "And it starts with that fungal aspect and it can work its way up through the macro-invertebrates to the plants. All of those can be filtering components at different levels."
Hill has worked for the last decade with Clemson Extension's Carolina Clear program and has been active in the organization's local chapter. Carolina Clear provides stormwater education, outreach, and public involvement opportunities, and strives to protect water resources and encourage pollution prevention by providing quality programs that raise awareness of stormwater issues, and promote actions and behaviors that ultimately protect our water resources. For more information about protecting South Carolina's water resources via our local chapter of Carolina Clear, please visit Clemson Extension's website.
One of the biggest obstacles to raising awareness about stormwater is conveying the message that it's a people problem––we're the ones leaving those cigarette butts, litter, pet waste, oil leaks, and more, behind on the ground.
Let's all try to remember, as Hill would say, "Only rain down the drain."