In August 2017, eight Coker College Enactus student members, along with team director Gabe Mens, traveled to Myanmar to install aquaponics systems in an effort to increase the income of some of the country's poorest citizens.
Enactus is an international organization that connects student, academic and business leaders through entrepreneurial-based projects, empowering people to transform opportunities into real, sustainable progress for themselves and their communities. Coker's Enactus team is one of the top 12 in the nation.
Eion Riley, Evan Bachman, Henrik Hellbe, JT Peagler, Katie Jordan, Kyle Ocker, Luke Elliott, Matthew Kron, and Gabe Mens traveled to Myanmar to the township of Dala to work on a reverse osmosis water system, install three aquaponics systems, and explore other innovative ways to help the community in the future. The projects were in coordination with New Hope, a non-governmental organization based out of Myanmar.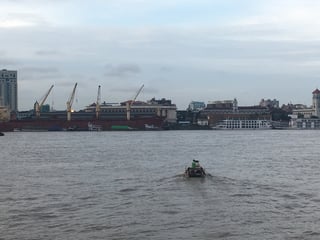 During their 11-day stay, the team stayed in Yangon and worked across the river in Dala. There isn't a bridge to Dala—you have to take the ferry and then coordinate moped rides with the locals. "The township Dala is home to about 10,000," said Mens. "It's easy to get to, but it's hard to do business. All the business that happens there is local because it's very hard to get a car there."
Mens continued, "The big problem there is clean water. During the rainy season...it's not as big of a problem because people collect the rainwater. They pump from an area where it rains a lot into kind of a pond/lake...It's not clean at all but it's doable. Once the dry season hits, people keep using the water from the rainy season until it's gone. And after the dry season comes the hot season. In the hot season, it's really bad. People use very, very dirty water. And how they do that is they basically go pump some water out, they see it's very dirty, they wait a day or two until everything kind of sinks and use the top of it."
"I just hope that the system that the team and I helped build...will help these people for a very, very long time."
In the spring of 2017, Coker's Enactus team successfully crowdfunded $12,000 to install a reverse osmosis water system in the township of Dala. The reverse osmosis system takes the dirty water and filters it into its purest, cleanest form. The money raised helped with the entire system, from laying the foundation to digging the well to paying two employees to run both the reverse osmosis and aquaponics systems.
It was the reverse osmosis project that led to conversations between New Hope and Coker Enactus about the team's aquaponics project. (Aquaponics is a system of aquaculture in which the waste produced by farmed fish or other aquatic animals supplies nutrients for plants grown hydroponically, which in turn purify the water.) New Hope saw aquaponics as a way to accomplish two very critical goals for Dala residents: 1) provide another source of food and 2) help provide an increase in income. "Increase their income a little bit and that makes a huge difference for them down the road," said Mens.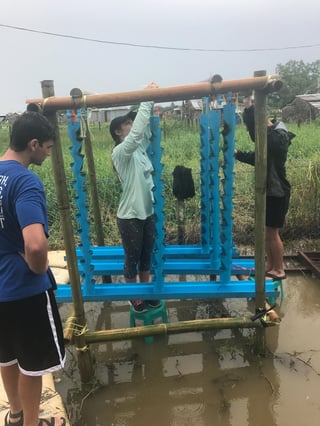 Innovation and creativity were key for the team on this venture. Mens said, "We built a hanging aquaponics system, something we've never done before, out of bamboo, on top of the water. So something we've absolutely never done before. But we got there and said, all right, let's get planning and let's get going."
Getting supplies to build the aquaponics system wasn't as easy as running to your nearest Lowe's, Home Depot or ACE Hardware. Before heading to Myanmar, the team was assured they could purchase PVC pipe in Dala. "There are stores in Dala that have PVC, but a store is completely different than what we think of a store," says Mens. "We knew we'd be able to get it; we did not know how we were going to get it. They told us it's available, and it was. We did not know that we had to send a guy on a moped and hire a guy to bring it back."
After PVC, bamboo was the team's second most-used material, something that is readily available in Myanmar for construction purposes, but not something Americans are too familiar with as a building material.
The team put 300 catfish in the system and planted the plants. They installed 18 columns with the potential for 10-12 plants per column, and two float tanks. By the end of their 11-day stay, the system was up and running.
"I was very, very proud of what all we accomplished because our goal was just to build one system and we ended up building three–three different systems," says project leader and Coker College junior Eion Riley. "And then, from a personal standpoint..for the last day, whenever we were on the ferry ride crossing the river, I just felt this sadness wash over me because I knew I may never see these people again and I just hope that the system that the team and I helped build...will help these people for a very, very long time."
For the students, the trip was more than just a chance to combine service, ingenuity and entrepreneurship. Mens said, "I know all of them have a completely changed mindset...You could just see it change day-by-day. They don't take a lot of things for granted anymore...They just don't think the same way. It's pretty cool to see that transformation."
"This was my first time abroad," said Enactus student member and Coker College junior Katie Jordan. "I also had never been on a plane until sophomore year when we went to Kansas City with Enactus."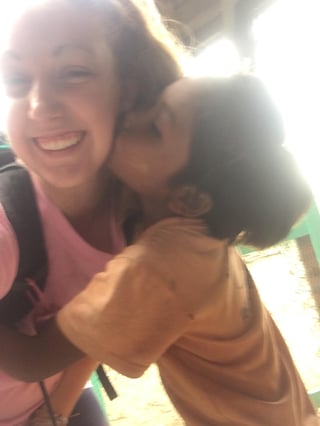 Jordan shared what it was like to get an up-close perspective on extreme poverty: "We were playing with the [Dala] kids on Snapchat...the kids loved it...They constantly wanted to take pictures. We don't think taking pictures is a big deal to us. It's a huge deal to them because half of the children haven't seen their reflection before, because they don't have mirrors and stuff like that over there...It's just crazy the stuff that we take for granted."
Jordan continued, "It definitely changed my perspective on life. Now I don't complain...You don't know hard until you go to a legit place of poverty. It's a smack in your face, like what are we doing to help these people? I definitely think it changed me in that aspect."
Riley also felt his mindset changing, "Coming back, it made me a lot more happy with what I had here. Because seeing the people over there, they had virtually nothing. They're struggling to get water and food for their family, but they just seem so happy just to be there. Happy to be alive. Happy to be surrounding themselves with family. I think, a lot of times, I took that for granted growing up...It was a much needed trip, just to see the world and put things into perspective."