By Madison Hodge, '21
Every Fall, Coker's Campus Activities Board (CAB) attends the National Association of Campus Activities (NACA) South Regional conference. NACA is the leading association for campus life and student activities. This year, the conference was held in late September in Chattanooga, Tennessee. Coker University was able to send six students: McKenzie Hite, Kirsten Faulk, Ximena Molina, Carrie Oxendine, Camryn Quick, Kayla Whitaker, along with Director of Student Activities and Leadership Caroline Carter. CAB brought home three awards.
The first award is the C. Shaw Smith Founders Award. This award was given to Caroline Carter. According to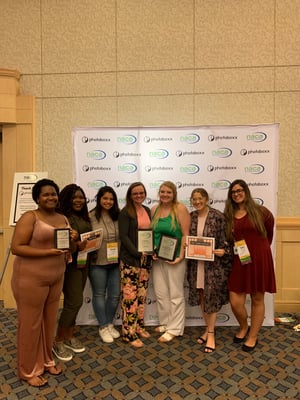 NACA, this award is the highest honor presented by the NACA® South Region, this award goes to a student, staff member or an associate member at a NACA® South member school or national associate member firm who has consistently given of their time and talents and contributed significantly at NACA's regional and national levels.
The second award is the Outstanding Undergraduate Student Leader Award. According to NACA, this award is presented to an undergraduate student leader at a NACA® South member school who has demonstrated dedication and commitment to campus activities, has been active in NACA activities, and is an active member of the institution's programming board.
The third and final award CAB received is the Social Media Award. This award recognizes an outstanding utilization of social media to promote campus events. The criteria for this award is innovative use of social media resources and platforms, evidence of an effort to encourage, promote and market participation in the series/program to the student population, increased involvement of larger campus in the series/program due to social media implementation, clarity and achievement of stated purpose and goals of the series/program, and effective evaluation of the series/program.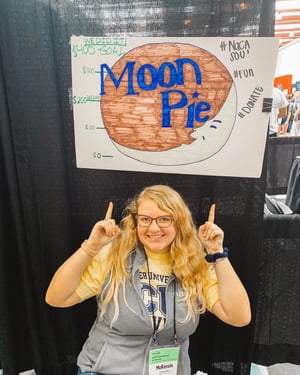 McKenzie Hite served her second term on NACA's Regional Conference Planning Committee. Last year, she was the Graphics Competition Coordinator. This year, she served as the Foundation Fundraiser Coordinator. This committee only selects three undergraduate students to serve, and McKenzie was chosen two years in a row, which is quite impressive. As part of her role in the committee this year, she raised money for the NACA Foundation, a branch of NACA that funds scholarships and research grants, and she raised triple the amount of her goal value. She raised over $1200 is just 2.5 onsite days.
Caroline Carter served her second term as one of NACA's three National Block Booking Coordinators.This team oversees the onsite business process between schools and agencies/talent. They help book talent at schools that are geographically close to each other in similar time frames in order to save money on the talent's travel costs. Talent would have one flight and one rental car for a week of shows rather than multiple flights across the country for a week of shows. This saves the schools money while still booking multiple shows for the talent and allowing multiple campuses to have spectacular programming. In her role, Caroline travels to at least two regional conferences and the national conference to run the business, as well as supervise a team of regional coordinators and graduate interns.
While attending NACA South, Coker student representatives were able to gain knowledge and skills that will follow with them during and after their Coker journey. During the conference, students learned how to conduct business with associate members and delegates from surrounding colleges, network efficiently with all who attended the conference, and attend educational sessions that provided students with helpful information to take back to campus.
Throughout the conference, students attend Showcase and CAMP. Showcase is where associate members perform small segments of their acts for students. In turn, if students are impressed with the act, they can book the associate member to perform at their school. Some of this year's acts included comedian Gibran Saleem, comedian Morgan Jay, who has performed at Coker before, and acapella group Kazual (pronounced casual).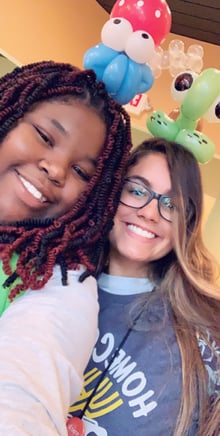 After Showcase, students then move on to CAMP (Campus Activities Marketplace). This is where most of the business conversations take place, but it is also everyone's favorite part of the conference. During CAMP, students have the opportunity to meet performers who just finished Showcase. Also during CAMP, novelty businesses showcase their items—which means students get free swag to take back to campus, in hopes that they will soon bring that specific novelty for the whole campus to enjoy. Novelties include things such as personalized license plates, stuff-a-plush, personalized t-shirts, water bottles, etc.
"CAB is responsible for most of the major campus traditions, including Homecoming, COW Days, Fall Formal, and Crew Races," says Caroline Carter, Director of Student Activities and Leadership. "but CAB is also tasked with campus events throughout the year to maintain a vibrant campus life. That includes small events like trivia nights or student trick-or-treats, but also includes large scale events like talent shows, visiting hypnotists, and more. CAB and its leadership has some of the most hands-on responsibilities on campus, as they juggle scheduling, budgeting, and event logistics normally tackled by professional staff on other campuses. I couldn't be prouder."
CAB is currently counting down to NACA 2020!