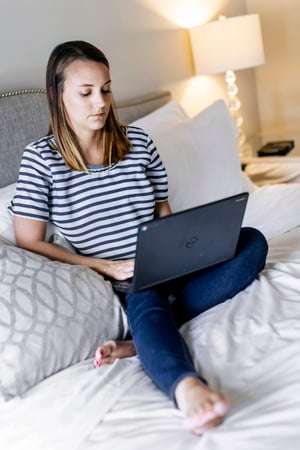 Millions of students all around the world are taking advantage of online degree programs. This alternative to traditional, in-seat programs is especially popular among those pursuing an advanced degree. Many students have already established a career, a family, or other life commitments by the time they reach graduate school. Going back to school in an online format provides a flexible and affordable way to pursue knowledge and growth — on your time.
But what is it like?
Is it right for me?
Can learning online really be as effective as the classroom?
These are common questions. We've outlined what a typical week looks like for graduate students at Coker College to provide an inside look at online learning.
Day 1
It's time to log onto Blackboard, your virtual learning environment, to see what the week will hold. Blackboard allows you to manage all of your courses; communicate with your professors and fellow students; view or submit your assignments; and take exams. Depending on the week, you might have a lecture to view, a paper to write, a discussion board to participate in, or a quiz to take. Plan out your week now to ensure it all gets done on time.
Day 2
All work is due at the end of the week, but you get to decide when the progress is made. Are you a go-getter who finishes everything at the beginning of the week, or someone who puts it off til closer to deadline? Either way, breaking your week into smaller milestones will help you avoid stress and stay on track. If you're working on a group project, now is the prime time to start coordinating with your team.
Day 3
Have a question about this week's assignment? Not to worry — your professor is just a quick message away. You can shoot him or her a note inside Blackboard or send an email. You'll get a prompt response providing the clarity you need to finish the job well.
Day 4
Hopefully by now you've made some headway on the week's assignments. Whether it's reading, writing, or listening to a lecture, consider the environment you need to perform your best. Some prefer a little background noise. Others may need to find a quiet place to focus. That's the beauty of online learning. You get to choose your learning environment. Starbucks, anyone?
Day 5
What connections have you made this week? Online degrees may seem less personable at first, but the truth is, you can create connections easily within Blackboard. Remember that you may have to be a little more proactive since you don't have a physical neighbor during lecture. But don't hesitate to reach out to your classmates to discuss the content, assignments, or even future career goals!
Day 6
Time to buckle down! The week is closing out and there's a good chance you'll have a deadline or two tomorrow. Some weeks you'll feel ahead of the game and have everything completed by this point. Other times, life gets crazy. If work, family, or other commitments took priority this week, don't throw in the towel. Learn from the experience and make a plan to successfully navigate the coming weeks.
Day 7
You've put in the work and it's time to hit submit. Whether you're turning in a paper, handing over your portion of a group project, or getting ready to take an exam, this is an important day. Always proof your assignments before submitting them, and when the work is done, breathe a sigh of relief: you're one step closer to earning your master's degree.
Ready to learn more?
If you're interested in pursuing a leadership position, learn more about our online M.S. in Management & Leadership degree. Get a free program preview today, or contact us with questions at 843-857-4128.