College is an excellent opportunity for students to take on new responsibilities, especially leadership positions. But what if you've never held a leadership position before coming to college? What if you're curious about taking on such a responsibility, but haven't had anyone show you the ropes?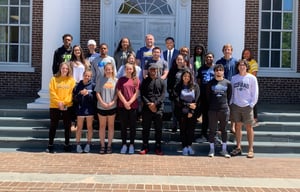 Active since 2013, Coker University's Emerging Leaders Program is a chance for first-year students to jump head-first into leadership lessons. The intensive program is designed to help them discover and develop their personal leadership style in an effort to equip them with the confidence and skills to become successful student leaders.
"There are so many leadership opportunities for our students here," says Caroline Carter, Director of Student Activities and Leadership at Coker University, and head of the Emerging Leaders program. "The Emerging Leaders program gives those who want to get involved and show an early passion for it a jumpstart in preparing for whatever they want to take on."
The voluntary program runs for 15 weeks and requires a commitment of only one hour per week, starting at the end of November and ending in early April. Students who complete the program (typically between 18-25 students each academic year) are recognized at the Excellence in Leadership Awards in the spring. Though the program is geared towards first-year students, it is open to all students.
"It's a program to really develop their foundational leadership skills," says Caroline. "It's for students who may have shown early interest or have potential in leadership, but maybe need a bit more formalized push to get them there."
The program is a bit like a crash course on the principles of leadership, covering each individual's personal leadership style, conflict resolution, how to effectively create change, how to work with others more productively, and how to facilitate meetings. "I'm a big believer in strengths-based leadership, so we find out what their individual strengths are and help them recognize how theirs and others' strengths contribute in different ways, as well as how they can utilize them together," says Caroline.
Christopher Nowlin ('21) participated in the Emerging Leaders Program his freshman year and was a Commissioner last year. "I want to succeed," Christopher says. "I know that if I continue to work hard, I'll be the best person that I want to be."
Caroline uses the students' feedback to tailor the course offerings to topics of interest to them. "Some years they really want to learn about communication," she says. "Some years they really want to learn about working with a group. It shifts according to the group that I have that year."
Students participating in the program have the advantage of learning from seasoned veterans who have held leadership positions on and off campus. Caroline says, "They get to hear from me, but they get to hear from more senior student leaders who have experienced the ups and downs and can talk to them about the good, bad, and ugly along the way, and encourage them to get involved."
"One of the biggest things that Caroline taught me in that class was to get okay with being uncomfortable, and really just put yourself out there," says Neeley Reagin ('20), a participant in the Emerging Leaders program and a Coker College Engagement Scholar. "I was very shy first semester coming in...But having her, going to that class...that's been what's pushed me to do everything I've done now."
Caroline says, "I hope that the students are inspired to take on more leadership on or off campus, wherever they find their leadership fit, and that they're also motivated to do so because they see the potential and value in taking on those leadership positions."
"It's really been life-changing," says Neeley. "It's been incredible to see how much I've stepped out of my comfort zone since freshman year...I've really broadened my views, broadened my perspectives on a lot of different things...That's been amazing."
If you're interested in participating in the Emerging Leaders program, be on the lookout in the fall for a call for nominations.