Coker University's First-Year Experience program provides students with a smooth academic and social transition into the campus community through intentional programs and services designed to connect students to campus resources and involvement opportunities that are crucial for their success during that first year.
Kendrick Reed ('15), Director of Student Success Programs and the First-Year Experience, and Whitney Watts ('08), Dean of Student Success, developed Coker's First-Year Experience program with some very specific objectives––student persistence, academic achievement, satisfaction with the Coker experience, personal development and student involvement––and lots of carefully designed programming to ensure a favorable outcome for our students.
Commissioner Program
"One of the biggest is the commissioner program," says Kendrick. "It's a very historic program, started in 1924, and has not missed a beat since."
Commissioners are sophomore students and responsible for a "family" of incoming students with the goal of helping them adjust to college life. "One of the cool things about our program, which is not similar to other institutions, is that most places get them through orientation and then they send them off, that's it," says Kendrick. "[Our commissioners] actually keep them throughout that whole entire first year. They do programming with various transition tips, study habits, getting acclimated to campus."
Coker Connection
Coker Connection, a summertime orientation session for new students, has long been an optional program until recently. It's now mandatory for all new students, providing experiential learning, the opportunity to meet new classmates, and explore campus before classes start.
"Coker Connection allows for [placement exams and academic advising] to happen throughout the summer so students can get those things out of the way," says Kendrick. "They can also meet classmates while they're here, eat in the dining hall, meet a faculty and staff member, get a snapshot of the Coker experience early on and get them excited to get here in August."
Navigate Coker
One obstacle new students face is not being familiar with the technology used on Coker's campus so the Office of Student Success and the First-Year Experience created 'Navigate Coker.'
"Navigate Coker is an online orientation course that allows students to learn about technology media on campus and resources," says Kendrick. "There's even an online discussion board where they can ask questions."
Navigate Coker is a required course. All new incoming students have to take the course and get a passing grade on a short quiz.
CU101 and Cobras in the Capital
All incoming first-year students are required to take Coker University 101 in their first semester. CU 101 is a seminar course taught by various faculty, staff and coaches. The course provides students an opportunity to learn more about college life and connects them with individuals and resources across campus.
Research shows that students who participate in a shared group experience during their first year of college are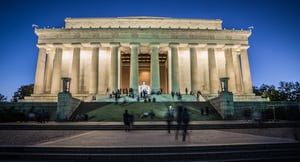 more likely to graduate. With that in mind, Coker designed Cobras in the Capital. Every September, all first-year undergraduate students, sophomore commissioners, and CU101 instructors will travel together to Washington, D.C., for three days of immersion into the history and culture of our nation's capital. "[Cobras in the Capital] is an opportunity for them to travel and take on a new city together as a group," says Kendrick.
Transition Tuesdays and FYE Programs
Transition Tuesdays is programming that takes place during the first six weeks of school. "We have various offices featuring resources that are available––first-year experience, the library, learning support services, counseling, student involvement, and diversity," says Kendrick.
FYE Programs are more programming designed specifically for first-year students. Unlike Transition Tuesdays, FYE Programs continue throughout the academic year and features panels and discussion topics like getting the most out of the AccessCoker iPad, things to do in Hartsville, health and wellness, inclusion, midterms––all topics that are known to impact our first-year students.
For more information about Coker's First-Year Experience, please visit coker.edu/first-year-experience.